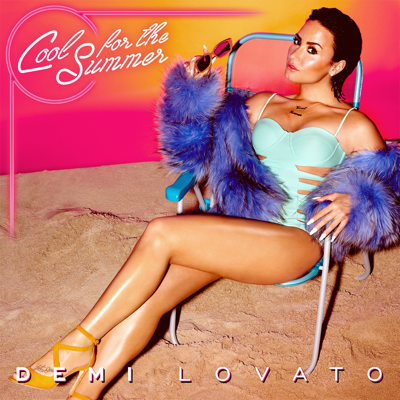 Katanya sih 'Cool for the Summer' ini merupakan ajang pulang kampung Demi Lovato ke elemen musik poprock yang ia rintis di awal karirnya dulu. Boleh percaya, karena di dalamnya memang tersemat apik daya rock yang membalut corak pop dengan erangan gitar elektrik yang begitu pekat. Boleh juga tidak, karena daya dance masih merupakan kecenderungan terbesar yang tercipta sebagai efek dengar single ini.
Demi bersama Savan Kotecha dan Max Martin plus Ali Payami juga Alexander Erik Kronlund meracik lagu bertempo sedang ini. Tidak terlalu lemah untuk summer, sehingga ia memiliki appeal tersendiri karenanya. Yang perlu lebih diperhatikan sebenarnya olah vokal Demi yang membuat tanda tanya, benarkah ini dia? Terutama di bagian verse, dimana ia memainkan suaranya sedemikian lunak, nyaris tak membekas warna aslinya. Sangat disayangkan, karena kemudian Demi justru mendapat penyandingan tolak ukur baru dalam karirnya. It is said that Katy Perry is written all over the song.
Kritisi tersebut tampaknya tak begitu memudarkan pesona lagu sebagai salah satu karya terpopuler musim ini. Buktinya, untuk ajang Teen Choice Awards di Amerika, ia diunggulkan untuk kategori Choice Summer Song, dimana ia harus bersaing dengan 'Bad Blood', 'Cheerleader', 'Fight Song', 'Good for You', dan juga 'Worth It'. Tapi pada titik ini, paling tidak ia sudah disetarakan dengan dua lagu no.1 di negara tersebut. Dan itu saja sudah tentu menjadi sebuah prestasi.
LYRIC
Tell me what you want
What you like
It's okay
I'm a little curious, too
Tell me if it's wrong
If it's right
I don't care
I can keep a secret, can you?
Got my mind on your body and your body on my mind
Got a taste for the cherry, I just need to take a bite
Don't tell your mother
Kiss one another
Die for each other
We're cool for the summer
(Ha)
Ooh, ooh
Take me down into your paradise
Don't be scared 'cause I'm your body type
Just something that we wanna try
'Cause you and I
We're cool for the summer
Tell me if I won
If I did
What's my prize?
I just wanna play with you, too
Even if they judge
Fuck it
I'll do the time
I just wanna have some fun with you
Got my mind on your body and your body on my mind
Got a taste for the cherry, I just need to take a bite
Don't tell your mother
Kiss one another
Die for each other
We're cool for the summer
(Ha)
Ooh, ooh
Take me down into your paradise
Don't be scared 'cause I'm your body type
Just something that we wanna try
'Cause you and I
We're cool for the summer
(Ha)
We're cool for the summer
We're cool for the summer
Shh… don't tell your mother
Got my mind on your body and your body on my mind
Got a taste for the cherry, I just need to take a bite
(Take me down) Take me down into your paradise
Don't be scared 'cause I'm your body type
Just something that we wanna try (wanna try)
'Cause you and I (you and I)
We're cool for the summer
(Take me down) We're cool for the summer
(Don't be scared) 'Cause I'm your body type
Just something that we wanna try
'Cause you and I (you and I)
We're cool for the summer
(Ha)
Ooh
We're cool for the summer
Ai Hasibuan
CreativeDisc Contributor
@hasibuanai11
Related posts