'Til It Happens To You' merupakan single terbaru milik Lady Gaga. Istimewanya, ini merupakan kolaborasinya dengan penulis lagu legendaris, Diane Warren. Mereka memadukan kekuatan dalam single yang merupakan soundtrack untuk film dokumenter berjudul "The Hunting Ground".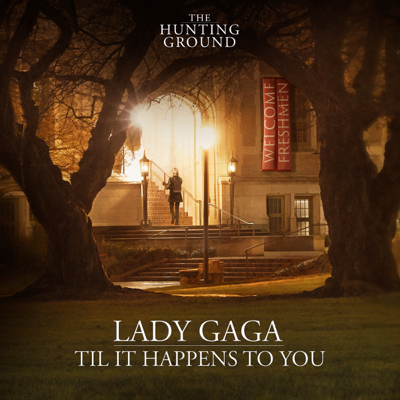 Film yang akan dirilis pada bulan Januari 2016 ini mengungkap tentang pelecehan seksual dan juga perkosaan yang terjadi di lingkungan kampus, lingkungan yang seharusnya memberi rasa aman, baik secara fisik dan moral kepada orang-orang yang berada di dalamnya, terutama para mahasiswa.
Karena mengandung pesan sosial yang kuat, maka video musiknya, yang baru saja dirilis di Vevo Gaga, juga mengambil semangat yang sama. Videonya yang diarahkan oleh Catherine Hardwicke (Thirteen, Twilight) ini memang sarat dengan pesan serta dipenuhi dengan visual dramatis yang mendukung untuk itu.
Gaga pun menyempatkan diri untuk memposting tentang video lagunya kepada sekitar 50 juta follower di Twitternya:
.@diane_warren & I made "Til It Happens To You" for people all over the world who suffer from painful life experiences. #TheHuntingGround

— Lady Gaga (@ladygaga) 18 September 2015
We hope u feel our love&solidarity through the song & perhaps find some peace in knowing u r not alone through this film #TilItHappensToYou

— Lady Gaga (@ladygaga) 18 September 2015
WATCH #TilItHappensToYou PSA: http://t.co/q9KWKRw14z A portion of proceeds from sales of the song will be donated to orgs helping survivors.

— Lady Gaga (@ladygaga) 18 September 2015
Warren sendiri sangat senang bisa bekerjasama dengan Gaga dan menyebut sang Mother Monster, yang sebentar lagi aktingnya bisa disaksikan dalam serial "American Horror Story: Hotel", sebagai salah satu penyanyi paling berbakat yang pernah bekerjasama bersama dirinya.
Lihat videonya di bawah ini:
Haris
CreativeDisc Contributor
@oldeuboi
Related posts