Album of the Day: Various Artists – Acoustix3
Haris, 5 years ago
0
4 min

read
760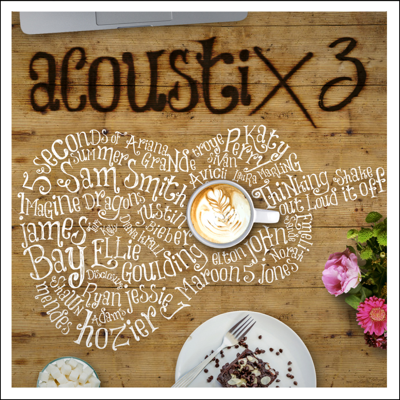 Gitar atau piano. Lagu orisinil atau coveran. Versi studio atau live. Nama baru atau pemain lama. Segala kualitas tersebut di atas merupakan jaminan yang bisa diberikan oleh kompilasi terbaru Universal Music, "Acoustix3", yang tersaji dalam dua keping disc dengan rentenan lagu bertemakan akustik sejumlah 39 buah. Wow! Sebanyak itu untuk memanjakan telinga yang gemar dengan jenis musik demikian. Kesimpulan awalnya adalah, kita akan menemukan siapa saja, dan apa saja yang kita ingin dengar di kompilasi apik ini.
Sam Smith, Ellie Goulding, Maroon 5, dan 5 Seconds of Summer merupakan nama-nama masa kini yang rasanya bersifat wajib untuk selalu diikutsertakan dalam kompilasi bertemakan apapun. Dua dari mereka menyanyikan lagu sendiri, Sam dengan 'Lay Me Down' dan 5SOS dengan 'Amnesia', sementara Ellie menyanyikan ulang lagu Elton John yang berjudul 'Your Song' dan Maroon 5 mendaur ulang lagu klasik Al Green, 'Let's Stay Together'. Ini merupakan kegembiraan awal yang membinarkan dari album ini. Selanjutnya? Pastinya lebih menghebohkan dengan kehadiran Ariana Grande, Norah Jones, Shawn Mendes, Avicii, Troye Sivan, dan tak ketinggalan Jessie Ware.
The bigger the name, the more excited it gets. I know, right! Nama-nama besar yang membaur dalam sebuah kompilasi merupakan pancaran sinar yang sangat menyilaukan, sehingga diyakini akan memudahkan pengambilan keputusan untuk mengoleksi album ini. Katy Perry, Jessie J, Emeli Sande, Hozier, Imagine Dragons, Elton John, dan masih banyak lagi. Koleksi hit mereka yang beraromakan akustik pun menjadi bahan dengar yang menyenangkan.
Jika tak ada nama besar yang hadir, hit besar pun bolehlah mewakilinya. Seperti Taylor Swift, yang 'Shake It Off'-nya dirombak mengakustik oleh Us The Duo; Ed Sheeran yang 'Thinking Out Loud'-nya dipermak ulang oleh superstar akustik Sabrina yang berduet dengan Chilla Kiana; juga Oasis yang 'Wonderwall' mereka direnovasi oleh Ryan Adams ke dalam versi yang luar biasa menyentuh.
Oh well, oh well. Kalau saya pribadi, alasan utama mengoleksi album ini adalah karena beberapa track langka yang enggak bisa ditemukan di album-album lain. Seperti 'Home to Mama', single duet antara Justin Bieber dan Cody Simpson yang diniatkan sebagai cikal bakal album kolaboratif antara kedua popstar tersebut. Namun oleh karena batalnya rencana tersebut, single ini kemudian menjadi sangat istimewa dengan alasan kelangkaannya. Yang berikutnya adalah 'Lava', lagu tentang cinta gunung berapi yang merupakan lagu untuk film pendek Disney dengan judul yang sama, yang ditampilkan di dalam film utama Disney, "Inside Out". Dua ini memiliki gaya gravitasi yang tinggi untuk menarik minat pembeli.
Tanpa melupakan lagu-lagu dalam versi live yang dibawakan oleh James Bay, The Shires, dan Angus & Julia Stone di dalamnya, "Acoustix3" adalah bukti kearifan label untuk sebuah kompilasi, yang bukan cuma sekedar akustik, tapi ini AKUSTIK!
TRACKLIST
Disc 1:
1 . Lay Me Down Sam Smith
2. Your Song Ellie Goulding
3. Let It Go (Live from London/2015) James Bay
4. Let's Stay Together – Maroon 5
5. Amnesia 5 Seconds of Summer
6. Shake It Off Us The Duo
7. Home to Mama Justin Bieber & Cody Simpson
8. The Nearness of You Norah Jones
9. My Everything Ariana Grande
10. Paper Hearts Tori Kelly
11. Life of the Party Shawn Mendes
12. Desperado Diana Krall
13. Waiting for Love Avicii
14. Someone New Banks
15. Arms of a Woman Amos Lee
16. King Years & Years
17. Younger Seinabo Sey
18. The Fault in Our Stars (MMXIV) Troye Sivan
19. Organs Of Monsters and Men
20. Say You Love Me Jessie Ware
Disc 2:
1. Thinking of You Katy Perry
2. Shots – Imagine Dragons
3. You Dont Really Know Me Jessie J
4. Take Me to Church Hozier
5. Imagine Emeli Sande
6. Ghosts Laura Marling
7. Candle in the Wind Elton John
8. Holding On (feat. Gregory Porter) Disclosure
9. Last Love Song ZZ Ward
10. Wonderwall Ryan Adams
11. Even If Ella Eyre
12. Thinking Out Loud Sabrina & Chilla Kiana
13. Another Mans Words Vintage Trouble
14. I Just Wanna Love You (Live at Air Edel Studios / April 2014) The Shires
15. Back to You Trevor Hall
16. Elusive Gentle Bones
17. I Will Love You Gin Wigmore
18. Stay with Me (Live from Berlin) Angus & Julia Stone
19. Lava Kuana Torres Kahele, Napua Greig & James Ford Murphy
Related posts