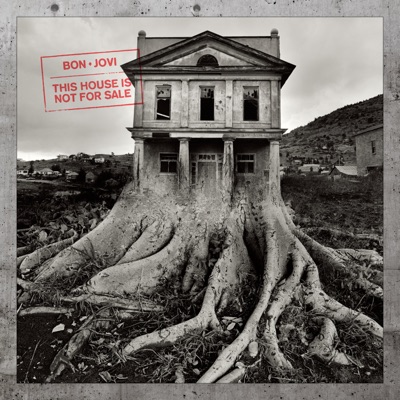 Album ke-13 Bon Jovi, "This House Is Not for Sale", merupakan album yang istimewa dalam babak karir band pengusung hard rock ini. Album ini menandakan yang pertama tanpa mantan lead guitarist mereka, Richie Sambora, serta menghadirkan penggantinya, Phil X, dan untuk pertama kalinya basis Hugh MCDonald menjabat sebagai anggota tetap, setelah menjadi anggota "tak resmi" semenjak tahun 1994.
Dalam rentang karir 3 dekade lebih dan 12 album sebelumnya, dan pergantian personel tentu saja, sebenarnya secara musikalitas Bon Jovi tidak begitu banyak berubah. Tentunya ada pergerakan gaya bermusik, yang kentara sekali saat transisi dari era 80-an menuju 90-an, dimana hard rock yang diusung Bon Jovi cenderung semakin matang dengan lirik-lirik yang lebih serius.
Dan "This House Is Not for Sale" pada dasarnya tidak bergerak begitu jauh dari dasar bermusik mereka. Saat band-band masa sekarang mengusung stadium rock, bisa dikatakan Bon Jovi sebenarnya sudah melakukannya terlebih dahulu, meski tentunya secara musikal agak berbeda dengan band-band kekinian. Hanya saja, rupanya Bon Jovi yang kini justru mencoba untuk mendekati formula stadium rock band masa kini yang bisa ditemui melalui track-track seperti 'Living with the Ghost', 'Knockout', 'Born Again Tomorrow', 'Roller Coaster', 'New Year's Day', atau 'Reunion'.
Jika menginginkan rock yang lebih konvensional ala Bon Jovi, jangan takut, karena album masih menyediakannya. Track pembuka sekaligus menjadi judul album, 'This House Is Not For Sale', seharusnya bisa menjadi pernyataan jika mereka masih setia dengan akar bermusik mereka. Lantas ada pula 'The Devil's In The Temple', 'God Bless This Mess' atau balada mid-tempo 'Come On Up To Our House'.
Balada-balada slow rock yang merupakan salah satu kekuatan Bon Jovi tetap teresedia dalam album. Cuma kalau ditilik lagi, tampaknya pop menjadi alas untuk lagu-lagu tersebut, ketimbang mengumbar kosa kata rock secara lebih ekstensif. Tak mengapa sebenarnya, karena vokal Jon Bon Jovi yang khas tetap tidak bisa menafikan saat kita mendengar lagu-lagu seperti 'Labor of Love' dan 'Scars On This Guitar'.
Pop tadi semakin dielaborasi dalam 5 lagu yang menjadi bonus track di edisi deluxe. Mulai dari balada manis minimalis 'Real Love', rock bergemuruh 'All Hail The King' dan 'Goodnight New York', balada berbumbu electropop 'I Will Drive You Home'. Sedikit pengecualian terdapat di track 'We Don't Run' dimana penggemar bisa memuaskan akan hard rock ala Bon Jovi yang prima.
Sebenarnya "This House Is Not for Sale" bukan album yang benar-benar istimewa. Secara formula ia masih standar ala Bon Jovi, dengan semangat stadium dan lagu-lagu yang mengedepankan chant. Menjadi catatan adalah saat distorsi dan riff gitar lebih banyak digantikan dengan kibor berbasis pop, sehingga kalau kita mencoba menarik kata "gahar" secara murni dari konsepsi rock Bon Jovi, terutama melalui album ini, agak susah didapat.
Lagu-lagunya memang cenderung bergerak di tempo sedang, dengan melodi manis gampang dicerna. Namun ini juga menjadi kelebihan tersendiri. Bon Jovi tampaknya sadar jika usia tidak menipu, sehingga mereka merasa tidak harus terlalu memaksakan diri untuk senantiasa garang. Kerapuhan pun bisa menjadi tawaran dalam bermusik. Demikian pula yang dapat dirasakan dalam beberapa track "This House Is Not for Sale". Ada kalanya memang keriuhan dalam rock yang disajikan terasa terlalu artifisial, mengingat pop menjadi aksen utama. Namun dalam momen-momen yang lebih senyap, album juga terasa jujur dan tulus.
TRACKLIST
1. "This House Is Not for Sale" 3:36
2. "Living With the Ghost" 4:44
3. "Knockout" 3:29
4. "Labor of Love" 5:03
5. "Born Again Tomorrow" 3:33
6. "Roller Coaster" 3:40
7. "New Year's Day" 4:27
8. "The Devil's in the Temple" 3:19
9. "Scars on This Guitar" 5:05
10. "God Bless This Mess" 3:23
11. "Reunion" 4:14
12. "Come On Up to Our House" 4:35
Deluxe Edition
13. "Real Love" 4:34
14. "All Hail the King" 4:54
15. "We Don't Run" 3:16
16. "I Will Drive You Home" 4:42
17. "Goodnight New York" 3:53
Related posts