Jack White baru saja mengumumkan album "Live at the Masonic Temple," paket Vault ke-47 dari Third Man Records. Direkam di Masonic Temple, Detroit, 30 Juli 2014, album berisi 38 track dan berdurasi kurang lebih 3 jam. Berbagai lagu White Stripes ada di dalamnya dan dibawakan secara live, selain cover untuk lagu milik Beck, 'Devil's Haircut' atau Led Zepellin, 'Lemon Song'.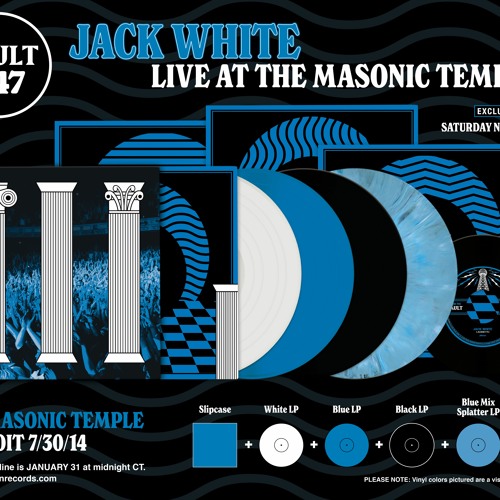 Jelang perilisan album, Jack melepas versi live 'Missing Pieces' yang berasal dari album solo debutnya, "Blunderbuss," di Soundcloud, yang tentunya bertugas sebagai preview.
Berikut tracklist untuk "Live at the Masonic Temple":
1. Fell in Love With a Girl
2. Astro
3. The Big Three Killed My Baby
4. High Ball Stepper
5. Lazaretto
6. Missing Pieces
7. Just One Drink
8. Hotel Yorba
9. You Know That I Know
10. Love Interruption
11. Weep Themselves to Sleep
12. I Cut Like a Buffalo
13. Cannon
14. Hoodoo Man (Junior Wells cover)
15. Icky Thump
16. Screwdriver
17. Ramblin' Man (Hank Williams cover)
18. Apple Blossom
19. Three Women
20. The Same Boy You've Always Known
21. We're Going to Be Friends
22. Sugar Never Tasted So Good
23. Entitlement
24. Alone in My Home
25. Steady, As She Goes
26. Ball and Biscuit
27. The Lemon Song (Led Zeppelin cover)
28. The Hardest Button to Button
29. Sixteen Saltines
30. Devil's Haircut (Beck cover)
31. Hypocritical Kiss
32. That Black Bat Licorice
33. Would You Fight for My Love?
34. Blue Blood Blues
35. You Don't Know What Love Is (You Just Do as You're Told)
36. My Doorbell
37. I Fought Piranhas
38. Seven Nation Army
Saturday Night Live 7-inch single
1. Don't Hurt Yourself / Ball and Biscuit /
2.Jesus Is Coming Soon (Blind Willie Johnson) / Lazaretto
Pengumuman ini menyusul perilisan album "The White Stripes Greatest Hits" yang dirilis secara digital di tanggal 4 Desember tahun lalu. Untuk versi vinyl dan CD, album rencananya akan dirilis pada tanggal 12 Februari.
Berikut tracklist untuk "The White Stripes Greatest Hits":
1. Let's Shake Hands
2. The Big Three Killed My Baby
3. Fell In Love With A Girl
4. Hello Operator
5. I'm Slowly Turning Into You
6. The Hardest Button To Button
7. The Nurse
8. Screwdriver
9. Dead Leaves And The Dirty Ground
10. Death Letter
11. We're Going To Be Friends
12. The Denial Twist
13. I Just Don't Know What To Do With Myself
14. Astro
15. Conquest
16. Jolene
17. Hotel Yorba
18. Apple Blossom
19. Blue Orchid
20. Ball And Biscuit
21. I Fought Piranhas
22. I Think I Smell A Rat
23. Icky Thump
24. My Doorbell
25. You're Pretty Good Looking (For A Girl)
26. Seven Nation Army
Related posts