Diva asal Australia yang dikenal dengan hits diskonya, Kylie Minogue mengumumkan rilisan edisi deluxe album #1 miliknya, "Disco: Guest List Edition". Album ini akan dirilis pada tanggal 12 November 2021 dengan berbagai macam format, seperti 2CD, 3 Vinyl, boxset DVD / Blu-ray yang berisikan penampilan Infinite Disco show.
Di album ini Kylie mengajak beberapa bintang tamu untuk berkolaborasi. Mereka adalah Jessie Ware, Years and Years, Dua Lipa dan sang legenda disko, Gloria Gaynor.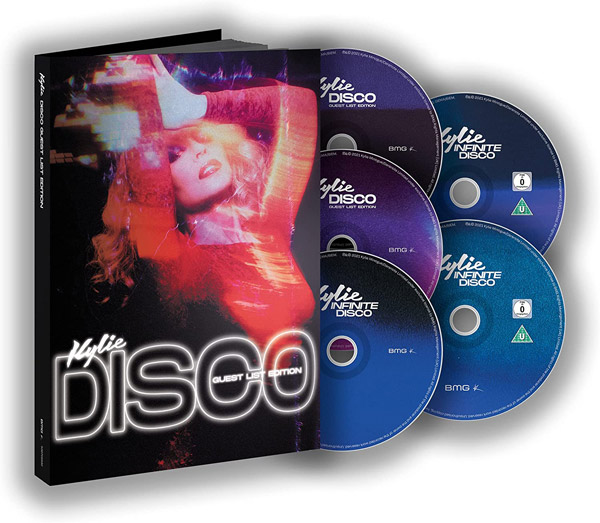 Bersama Dua Lipa, Kylie berkolaborasi di lagu 'Real Groove', setelah mereka juga tmapil bersama di acara Dua Lipa, Future Nostalgia live stream. Sedangkan bersama Jessie Ware, keduanya berkolaborasi di single 'Kiss of Life'.
Sementara itu Kylie bersama Years & Years berkolaborasi di single baru, 'A Second To Midnight'. Ini merupakan kolaborasi keduanya, setelah Kylie tampil di versi remix single 'Starstruck' milik Years & Years.
Berikut tracklist "Disco: Guest List Edition":
Disc 1
Magic
Miss a Thing
Real Groove
Monday Blues
Supernova
Say Something
Last Chance
I Love It
Where Does the DJ Go?
Dance Floor Darling
Unstoppable
Celebrate You
Till You Love Somebody
Fine Wine
Hey Lonely
Spotlight
Disc 2
A Second to Midnight (With Years & Years)
Kiss of Life (With Jessie Ware)
Can't Stop Writing Songs About You (With Gloria Gaynor)
Real Groove (With Dua Lipa) (Studio 2054 Remix)
Say Something (Basement Jaxx Remix)
Say Something (F9 Club Mix)
Say Something (Syn Cole Extended Mix)
Magic (Purple Disco Machine Extended Mix)
Real Groove (With Dua Lipa) (Studio 2054 Initial Talk Remix)
Dance Floor Darling (Linslee's Electric Slide Remix)
Related posts