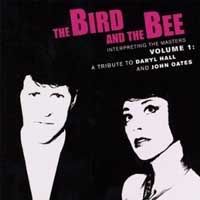 Untuk album ketiganya, The Bird and The Bee memutuskan untuk mereka-ulang delapan lagu milik Hall & Oates dalam sebuah album yang diberi judul 'Interpreting the Masters Volume 1: A Tribute To Daryl Hall and John Oates'. Siapakah Daryl Hall dan John Oates ini? Mereka adalah pop-duo yang terkenal di era 70an dan terkenal sebagai duet penyanyi multi-instrumentalis.
Tentu saja ini juga mengingatkan akan duet Inara George dan Greg Kurstin itu sendiri. Namun, jika Hall & Oates meramu Rock and Roll dengan R n' B dalam musik-musiknya yang disebut sebagai Rock and Soul, maka The Bird and The Bee mengusung elektro-indie-pop yang eklektik. Sepertinya bersebrangan. Namun, setelah mendengarkan album ini, ramuan versi George dan Kurstin malah terasa sangat padu dengan materi milik Hall & Oates.
Dibuka dengan 'Heard It On Radio' sebagai sebuah lagu tribut untuk Hall & Oates, meski tetap dipenuhi oleh bebunyian yang kompleks, akan tetapi Inara bernyayi dengan lempang tanpa perlu memakai ornamen-ornamen rumit yang biasa ditampilkannya.
Secara keseluruhan memang vokal Inara akan terasa lebih pop-ish dan aransemen musik Kurstin akan terasa lebih sederhana daripada biasanya. Mendengarkan 'I Can Go For That' akan membuat kita bergoyang-goyang santai mengikuti irama retro-disco-funk-nya.
'One and One' contoh paling konkritnya. Vokal Inara yang renyah dengan lembut mengalunkan romansa dengan diiringi instrumen yang minimalis. Sangat manis dan syahdu. Atau 'Maneater' yang lebih up-tempo dengan sentuhan synth-pop yang kental. Vokal Shirley Manson dari Garbage yang melatari menambah semarak lagu ini.
'Private Eyes' yang bergaya funk atau 'Rich Girl' yang bernuansa soul akan tetap terasa segar, karena meski tetap berada didalam tone awalnya, akan tetapi duet Inara dan Kurstin memolesnya agar tetap terasa kekiniannya. Namun mendengarkan 'Kiss On My List' malah mengingatkan akan lagu-lagu milik The Bird and The Bee itu sendiri.
Sebagai sebuah interprestasi ulang, rasanya George dan Kurstin tidak terlalu berupaya untuk menyetir materi aslinya menjadi sangat berbeda, karena secara keseluruhan materinya masih tetap menangkap atmosfir materi aslinya. Lagu-lagunya masih tetap dalam koridor atau kaidah lagu-lagu yang keluar pada era Hall & Oates berjaya. Usaha pembedanya mungkin dengan elemen-elemen elektronika yang kekinian, akan tetapi tetap dalam tone yang diupayakan mirip aslinya.
Mendengarkan 'Interpreting the Masters Volume 1: A Tribute To Daryl Hall and John Oates' akan tetap terasa kental atmosfir The Bird and The Bee-nya dimana instrumen elektronika mendominasi aransemennya. Hanya saja, kali ini lagu-lagu mereka hadir dalam konsep yang lebih gampang untuk didengarkan tanpa harus memerlukan interprestasi yang terlalu rumit.
Tentunya The Bird and The Bee merasakan suatu urgensi sehingga merasa perlu untuk meramu ulang musik Hall & Oates sebagai pembuka dalam seri album Interpreting the Masters ini. Hasilnya adalah sebuah album pop-alternatif yang segar dan menyenangkan. Patut ditunggu siapa lagi musisi kenamaan yang mendapat 'giliran' untuk mereka rendisi-ulang-kan.
(Haris / CreativeDisc Contributors)
TRACK LIST
01. Heard It on the Radio
02. I Can't Go for That
03. Rich Girl
04. Sara Smile
05. Kiss on My List
06. Maneater
07. She's Gone
08. Private Eyes
09. One on One
Sent from BlackBerry® on 3
Related posts