Music Newz Bites – 09 June
welly, 11 years ago
11
2 min

read
459
10. Robbie Williams + Gary Barlow = ??? Yep, itu akan kejadian di album Greatest Hits milik Robbie Williams. Ini adalah penampilan bersama kedua musisi pop itu sejak perpisahan Rob dari Take That di tahun 1995.
09. Kalau Rob & Gary reunian, bagaimana nasib Take That? Masih eksis kog. Belum lama ini mereka terlihat di acara amal Soccer Aid 2010. Setelah itu, mereka juga akan muncul di Royal Albert Hall untuk acara amal Children In Need.
08. Lady Gaga bermasalah dengan pihak bandara Heathrow di London. Ini diakibatkan koper si artis membuat alarm sistem pengamanan bandara bunyi-bunyi ga keruan. Dari mana asal pemancing bebunyian itu? Jawabannya adalah kostum-kostumnya.
07. Pasca cerai dari Cheryl Tweedy , pesepakbola Ashley Cole mencoba untuk melupakan mantan istrinya itu dengan kencan bersama penari striptis berusia 23 tahun yang wajahnya mirip ama Cheryl. Nama gadis itu adalah Sarah Purnell. Kelakuan!
06. Sementara, Cheryl yang dikabarkan lagi dekat-dekatnya ama Derek Hough (Dancing With The Stars) akan memiliki replika dirinya di museum Madame Tussauds. Tapi pengerjaannya belum dilaksanakan berhubung Cheryl belum nemu baju yang tepat untuk si patung. Kenapa enggak patung ini aja yang dikencani Ashley ya?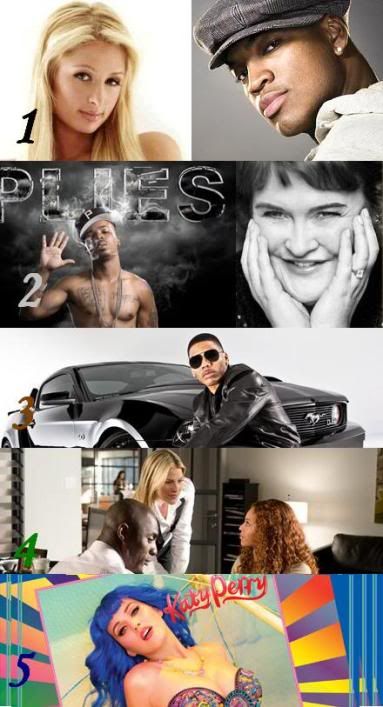 05. Bukan Indonesia aja yang heboh dengan video panas, karena Amerika juga geger dengan dipublikasikannya poto tidak senonoh milik artis Katy Perry. Ini Katy langsung yang masukkan potonya lewat Twitter untuk sang tunangan Russell Brand.
04. MTV Movie Awards tahun ini dikuasai oleh New Moon dengan memenangkan 5 popcorn emas. Tapi, salah satu kategori yang seru yaitu Best Fight justru dimenangkan oleh Beyonce vs Ali Larter lewat film Obsessed.
03. Nelly akan mengeluarkan album baru berjudul Nelly 5.0 yang katanya judulnya adalah inspirasi dari mobil Mustang 5.0. "5.0 was always one of my dream cars. That sh*t was hot!"
02. Bicara soal hot, kalau kamu merasa kolaborasi Eminem dan P!nk itu yang paling HOT tahun ini, baca berita yang satu ini. Rapper Plies akan mengajak Susan Boyle berkolaborasi. "Susan Boyle is probably at the top of my list", kata rapper itu.
01. Yang ini yang cukup menggemparkan, Ne-Yo pacaran sama Paris Hilton!
(Ai Hasibuan / CreativeDisc Contributors)
Related posts