Eminem Spends Third Week at Billboard 200
welly, 11 years ago
14
2 min

read
761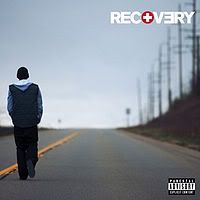 Album terbaru Eminem, "Recovery" sepertinya terus bakal mengejar rekor baru. 3 minggu di puncak Billboard 200, menyamai rekor Sade "Soldier of Love" di bulan Maret lalu, dan penjualan minggu ini 229ribu menyamai rekor Lady Antebellum "Need You Now" yang berhasil menjual album di atas 200rb utk 3 minggu pertamanya. Dapatkah Eminem mempertahankan prestasi ini minggu depan? Bisa jadi, karena single "Love The Way You Lie" sepertinya bakal menggusur "California Gurls" di Billboard Hot 100.
Debutan minggu ini yang berhasil masuk Top 10 hanya ada 2, yaitu Big Boi "Sir Luscious Left Foot.. The Son of Chico Dusty" ada di urutan ke-3 dengan terjual 62ribu, begitu juga Enrique Iglesias yang hanya debut di #10 terjual 27ribu, dimana prestasi ini sedikit menurun sejalah jumlah, karena album "Insomniac" di thn 2007 berhasil terjual 45ribu di minggu pertamanya tapi hanya debut di #17 Billboard 200. Single pertamanya "I Like It" yang menampilkan Pitbull juga menorehkan prestasi tersendiri buat Enrique dimana berhasil masuk Top 20 Billboard Hot 100 semenjak single 'Escape' thn 2002 lalu masuk Top 20.
Bret Michaels debut solo "Custom Built" debut #14 terjual 22ribu. Sementara itu Diva asal Australia, Kylie Minogue dengan album barunya "Aphrodite" ada di urutan #19 terjual 18ribu. Sangat berbeda dengan penjualan albumnya di UK yang menjadi #1 dan Kylie berhak menyandang satu2nya solois cewek yang punya 4 album #1 di UK di 4 dekade yang berbeda!
Top 10 Album This Week:
1. (1) Eminem, Recovery – 229,000
2. (2) Drake, Thank Me Later – 74,000
3. (NEW) Big Boi, Sir Lucious Left Foot: The Son Of Chico Dusty, 62,000
4. (3) Various Artists, The Twilight Saga: Eclipse – 45,000
5. (6) Justin Bieber, My World 2.0. – 43,000
6. (5) Various Artists, NOW 34 – 33,000
7. (8) Jack Johnson, To The Sea – 30,000
8. (13) Lady Gaga, The Fame – 29,000
9. (10) Lady Antebellum, Need You Now – 28,000
10. (NEW)Enrique Iglesias, Euphoria – 27,000
credit to Hendra!
Related posts