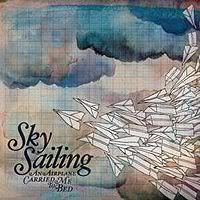 Sky Sailing memang adalah one man band yang dipimpin oleh Adam Young. Dan proyek musiknya ini dimulai jauh sebelum dia membuat sound yang lebih elektrik ala Owl City. Dia akhirnya merilis album debutnya yang tak dinyana duduk di nomor 30 US Billboard Hot 100. Jika Owl City mengandalkan sound electronic di lagunya maka Sky Sailing menerapkan unsur acoustic pop dan pop rock.
Permainan gitar ala Kings Of Convenience terdapat di "A Little Opera Goes A Long Way" (namun lebih upbeat). Unsur band dimasukkan di tengah lagu dan selanjutnya akan begitu.Pada awalan "Alaska",dia sedikit mencomot Landon Pigg. Dia memasukkan permainan keyboardnya di tengah lagu. Atmosfir dreamy ada di sini. Dentingan piano membuka "Blue And Red", mendengar track ini seolah mendengar musik Secondhand Serenade namun lebih uptempo. "Brielle", memasukkan unsur drum dan piano.Petikan gitar akustiknya cukup ngena di hati. "Captains Of The Sky", bermain di ranah pop. Nuansa "Umbrella Beach" dihidupkan lagi namun dengan nuansa akustik yang lebih ketara. Polesan synth dengan musik yang catchy di telinga membuat track ini punya esens tersendiri. Putarlah lagu ini saat kamu melihat langit maka lagu ini akan pas dinikmati. "Explolers",bermain akustik di awal. Memasuki ending lagu sound yang megah menjadi benang merahnya (ada aroma "Vanilla Twilight" di sini). "I Live Alone", merupakan curhatan Adam. Lagu ini bermain aman dan catchy.Sedikit folk di lagu ini. "Sailboats" = dentingan piano + musik ala Secondhand + simple lyric + electric beats + folky sound. Suara gitar akustik full plus dengan nuansa akustiknya utuh ditambah dengan bunyi piano yang lentik menjadi unsur yang paling utama di "Steady As She Goes". "Take Me Somewhere Nice" menyelipkan akordion dengan tempo musik dan beatnya nyaman di telinga. "Tennis Elbow", mempunyai beat yang enak dengan tambahan handclapping. Lagu ini enak untuk didengar berulang-ulang. Musik 90's dihidupkan kembali. Lagu ini juga punya groove sendiri dan sedikit dancy. Nice track.
Sky Sailing bisa dikatakan Owl City acoustic version. Unsur-unsur Owl City dapat kita temukan disini. Musik dan lagunya pun rata-rata enak didengar. Meski masih ada pengulangan di beberapa track dan juga tiap lagu ini punya kejutan tersendiri. Dimana kebanyakan tracknya awalnya cukup mellow namun makin kesini musiknya makin cepat. Bagi penggemar Owl City, Sky Sailing merupakan alternative akustik terhadap musik Owl City yang lebih elektrik. Dan yang bukan bolehlah mendengar keteduhan musiknya dan sesi akustiknya Adam Young di sini.
Official MySpace Sky Sailing
(Luthfi / CreativeDisc Contributors)
Track List:
No. Title Length
1. "Captains of the Sky" 2:43
2. "Brielle" 4:06
3. "Steady As She Goes" 2:36
4. "Explorers" 4:10
5. "A Little Opera Goes a Long Way" 3:48
6. "Tennis Elbow" 3:45
7. "Blue and Red" 3:39
8. "Alaska" 2:36
9. "I Live Alone" 4:04
10. "Take Me Somewhere Nice" 2:47
11. "Sailboats" 4:19
CD ini sudah direlease oleh Universal Music Indonesia!
Related posts