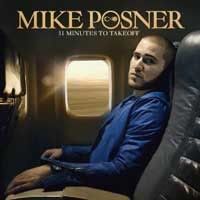 Debut album Mike Posner "31 Minutes To Take Off" yang dirilis oleh J Records pada 10 Agustus 2010 juga memberikan genres Dance-Pop dan R&B. Dua belas tracks ditawarkan pada album ini dan tiga buah single sudah dirilis, termasuk dua official single dan satu promotional single.
Untuk jenis musik, sebenarnya menggunakan blend antara aliran pop, R&B dan dance serta banyak dipengaruhi oleh synthesizers seperti era 1980 an yang banyak digunakan pada aliran hip-hop dan kolaborasi dengan electro music dengan hooks yang simpel dan beat yang ceria. Single pertama "Cooler Than Me" dan single kedua "Please Don't Go" banyak menggunakan up tempo dance songs. "Please Don't Go" adalah lagu dengan jenis musik electropop dengan suntikan R&B, pada bagian chorus kental menggunakan synths seperti pada video-game. "Cooler Than Me" yang terpilih sebagai lead single lebih ke aliran nu disco, tentunya dengan unsur electropop dan cukup mendapat respon yang cukup baik, buktinya "Cooler Than Me" yang dirilis sebagai single pertama pada 16 April 2010 berhasil menduduki #6 pada U.S. Billboard Hot 100.
Salah satu lagu yang memorable adalah "Bow Chicka Wow Wow" yang juga dirilis sebagai promotional single dan rencananya akan dirilis sebagai official single. "Bow Chicka Wow Wow" adalah lagu dengan aliran R&B, meskipun demikian nuansa rock music dipadukan pada lagu ini. "Cheated" mirip dengan "Cooler Than Me" hanya lebih repetitive pada bagian hook.
Mike Posner juga mengajak duet boyband asal Amerika, yaitu Boyz II Men pada lagu Déjà Vu, tentunya R&B tahun 1990 an dapat dirasakan dalam lagu ini, belum lagi nuansa contemporary pop yang diberikan Boyz II Men. Banyak jenis-jenis musik serupa yang ditawarkan pada album ini, cukup memberikan warna-warni pada dunia musik internasional, khususnya bagi pendatang baru vokal pria. Album yang diproduseri oleh Mike Posner, Gigamesh, Ebark, Benny Blanco, The Smeezingtons, Cisco Adler, Greg Kurstin dan Raw Talent boleh mendapat perhatian lebih, paling tidak sesuatu yang fresh diberikan pada "31 Minutes To Takeoff".
Official Website
Official MySpace
Official Facebook
Official Twitter
(Joe Ronald Hutagalung / CreativeDisc Contributors)
Track List:
01. 31 Minutes To Takeoff [Intro]
02. Please Don't Go
03. Bow Chicka Wow Wow
04. Cooler Than Me
05. Déjà Vu (Featuring Boyz II Men)
06. Do You Wanna? (Featuring Cisco Adler)
07. Cheated
08. Gone In September
09. Save Your Goodbye
10. Synthesizer
11. Delta 1406
12. Falling
ps: CD ini sudah direlease oleh Sony Music Indonesia!
Related posts