Single of The Day: Rebecca Black – Friday
welly, 11 years ago
42
4 min

read
2084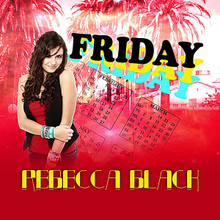 Kehadiran Rebecca Black bisa dikatakan seperti angin puting beliung. Menarik perhatian sejuta umat dengan perspektif negatif. Dia menjadikan dirinya sampel sebuah konsep viral marketing yang sangat menarik. Serta pembuktian bahwa memang kita hidup di jaman sosial media yang telah masuk ke dalam menu keseharian.
Sedikit merujuk kepada latar belakang sampai insiden Friday ini terjadi, bahwa alkisah, seorang teman Rebecca memberi tahunya tentang Ark Music Factory. Sebuah perusahaan rekaman di Los Angeles. Sang ibu kemudian membayar uang sejumlah 4000 dolar untuk dua buah lagu dan satu video klip yang akan diproduksi. Rebecca Black akhirnya memilih Friday serta satu lagi track yang bernuansa cinta.
Singkat cerita ketika track ini resmi dirilis, ada banyak rekor yang didapatkannya. Selain menjadi Trending topic di Twitter, dia mempunyai catatan rekor tersendiri di Youtube. 11 Maret 2011, video ini sudah mencapai angka 3000 view dan melonjak drastic ke angka 18 juta view seminggu kemudian. Catatan terakhir bahwa angka 30 juta view sudah ditembusnya dengan jumlah komentar menyentuh angka 1,1 juta komentar. Fantastis!
Begitulah yang terjadi dalam industri. Ketika kau ingin menarik perhatian, buat yang terbaik sehingga orang memujamu. Atau sekalian lakukan yang terburuk, sehingga semua lampu sorot mengarah kepadamu. Dalam hal ini, sepertinya ramuan Rebecca Black untuk go public agak salah, mantranya malah menghantam diri sendiri.
Saya pikir ketika mendengar The Chipmunk atau Donal Bebek bernyanyi, saya pikir itulah akhir dari dunia. Suara mereka membuat iritasi dengan kadar yang masih bisa dimaklumi. Cenderung lucu dan mengundang senyum. Tapi autotune yang terdapat di track ini, membuat orang bertanya, apa yang terjadi dengan suara aslinya?
Lirik Tomorrow is Saturday / And Sunday comes afterwards / I don't want this weekend to end terasa sangat menghina intelejensia. Seperti mengajarkan lagu 1+1 kepada anak SMP. What the hell? Inilah yang menjadi pokok persoalannya. Lirik yang sangat cheesy membuatnya terlihat sangat "remeh". Ditambah lagi beat-beat yang mengalun sepanjang lagu terdengar flat dan membosankan.
Tapidilihat dari sudut pandang marketing, sebenarnya Rebecca Black memenangkan pertaruhan ini. Majalah Forbes meramalkan penghasilan single ini telah mencapi angka 1 juta dolar melalui iTunes Store, serta 20 ribu dolar dari sharing profit bersama youtube. Sebuah angka yang terbilang besar dibandingkan dengan "modal" yang dikeluarkan oleh sang ibu.
Akhir cerita, walaupun semua orang seperti membencinya, Rebecca Black bisa sedikit bernapas lega. Ada Chris Brown dan Simon Cowell yang menyatakan tertarik dengan vokal dan lagunya. Mungkinkah dia bisa menjadi idola di masa yang akan datang? Berdoa saja! Cheers!
Lihat Videonya disini (Sudah mencapai 66juta view!)
Official Website Rebecca Black
(iQko / CreativeDisc Contributors)
Rate This Single: [ratings]
Lyrics:
(Yeah, Ah-Ah-Ah-Ah-Ah-Ark)
Oo-ooh-ooh, hoo yeah, yeah
Yeah, yeah
Yeah-ah-ah
Yeah-ah-ah
Yeah-ah-ah
Yeah-ah-ah
Yeah, yeah, yeah
[Rebecca Black – Verse 1]
7am, waking up in the morning
Gotta be fresh, gotta go downstairs
Gotta have my bowl, gotta have cereal
Seein' everything, the time is goin'
Tickin' on and on, everybody's rushin'
Gotta get down to the bus stop
Gotta catch my bus, I see my friends (My friends)
Kickin' in the front seat
Sittin' in the back seat
Gotta make my mind up
Which seat can I take?
It's Friday, Friday
Gotta get down on Friday
Everybody's lookin' forward to the weekend, weekend
Friday, Friday
Gettin' down on Friday
Everybody's lookin' forward to the weekend
Partyin', partyin' (Yeah)
Partyin', partyin' (Yeah)
Fun, fun, fun, fun
Lookin' forward to the weekend
[Rebecca Black – Verse 2]
7:45, we're drivin' on the highway
Cruisin' so fast, I want time to fly
Fun, fun, think about fun
You know what it is
I got this, you got this
My friend is by my right
I got this, you got this
Now you know it
Kickin' in the front seat
Sittin' in the back seat
Gotta make my mind up
Which seat can I take?
[Chorus]
It's Friday, Friday
Gotta get down on Friday
Everybody's lookin' forward to the weekend, weekend
Friday, Friday
Gettin' down on Friday
Everybody's lookin' forward to the weekend
Partyin', partyin' (Yeah)
Partyin', partyin' (Yeah)
Fun, fun, fun, fun
Lookin' forward to the weekend
[Bridge]
Yesterday was Thursday, Thursday
Today i-is Friday, Friday (Partyin')
We-we-we so excited
We so excited
We gonna have a ball today
Tomorrow is Saturday
And Sunday comes after…wards
I don't want this weekend to end
[Rap Verse]
R-B, Rebecca Black
So chillin' in the front seat (In the front seat)
In the back seat (In the back seat)
I'm drivin', cruisin' (Yeah, yeah)
Fast lanes, switchin' lanes
Wit' a car up on my side (Woo!)
(C'mon) Passin' by is a school bus in front of me
Makes tick tock, tick tock, wanna scream
Check my time, it's Friday, it's a weekend
We gonna have fun, c'mon, c'mon, y'all
[Chorus]
It's Friday, Friday
Gotta get down on Friday
Everybody's lookin' forward to the weekend, weekend
Friday, Friday
Gettin' down on Friday
Everybody's lookin' forward to the weekend
Partyin', partyin' (Yeah)
Partyin', partyin' (Yeah)
Fun, fun, fun, fun
Lookin' forward to the weekend
It's Friday, Friday
Gotta get down on Friday
Everybody's lookin' forward to the weekend, weekend
Friday, Friday
Gettin' down on Friday
Everybody's lookin' forward to the weekend
Partyin', partyin' (Yeah)
Partyin', partyin' (Yeah)
Fun, fun, fun, fun
Lookin' forward to the weekend
Related posts