Album of the Day: Shawn Mendes – Handwritten
Haris, 6 years ago
0
3 min

read
1535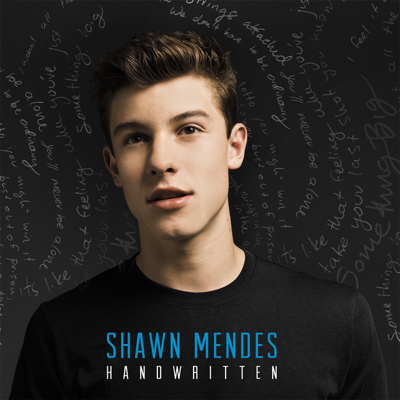 There's a new kid in town. His name is Shawn Mendes. Menarik perhatian publik lewat Vine, ia berhasil memenangkan kontrak rekaman bersama Island Records hingga akhirnya berhasil merilis album studio dengan judul "Handwritten" di April 2015 ini. Sedikit delay dari jadwal tersebut, kita yang di Indonesia baru kebagian jatah menikmati keping CD original Shawn di pertengahan tahun ini. But that's alright, karena kenikmatannya tetap tak berkurang.
Pop dan soul tertera sebagai genre dari album yang berisikan selusin track ini. Terkesan tua untuk usianya yang masih sangat belia? What a minute. Karena sebenarnya interpretasi yang dilakukan terhadap musik berperawakan dewasa tersebut menemukan relevansinya, sehingga terdengar youthful. Ini terjadi dalam 'Stitches' yang lebih riuh. Kesan sorak sorainya lahir dari beat yang menggawangi musik latar. Kalaupun musiknya lebih slow down, 'Life of the Party' contohnya, pembalasan terjadi pada bagian lirik dimana ia sangat terkoneksi dengan pendengar segenerasi dengannya.
Masih terlalu dini menyebut Shawn sebagai pujangga masa kini. Masih satu album, usia karir belum pun bahkan belum seumur jagung. Tapi melihat keterlibatannya dalam penulisan lagu di hampir 80% jumlah track, ia telah memesan tiket untuk ke pujangga land. Begitu mengesankan mendengarkan 'Never Be Alone', 'Kid in Love', dan 'I Don't Even Know Your Name' yang matang. Dan tidak usah terkejut jika nantinya kalian akan menemukan pesona Shawn yang mendekat ke beberapa nama seniornya, seperti Dave Matthews Band, John Mayer, ataupun Ed Sheeran. Kiblat musiknya mengarah ke sana.
Saya suka bagaimana tajuk "Handwritten" memberi kiasan ulet terhadap album ini. Ia memang terdengar demikian, penuh persiapan dan ketelitian. Selain visi yang dijelaskan lewat lagu-lagu yang mengefek pada corak musik senior, ada beberapa track yang sedemikian asyik sehingga berpotensi besar untuk menjadi radio hit. Antara lain 'Something Big' dan 'Strings'. Dua lagu ini tipikal crown pleaser. Bisa dibayang-bayangkan bagaimana ia akan menuai atensi saat dibawakan secara live.
Lagu-lagu lain seperti 'Aftertaste', 'Air' (duet dengan Astrid S), da 'Crazy' masih dalam kesepakatan untuk membangun musik yang organik sebagai citra Shawn. Bukan rahasia jika pendatang baru sangat mudah disetir oleh industri ini untuk tampil mati-matian di jalur mainstream demi target penjualan. That won't be a problem here. Shawn jelas memiliki karakter yang didukung oleh label untuk ditunjukkan tampa banyak didandani. Lagu akustik 'A Little Too Much' dan 'This Is What It Takes' mewujudkan keorganisan album ini dan menyempurnakan segala apa yang ingin dicapai dari titik awal proyek album.
"Handwritten" dalam edisi deluxe memberi tiga ekstra, 'Bring It Back', 'Imagination', dan 'The Weight'. Ketiganya merapat pada pesona akustik yang tertera dalam bagian akhir album edisi standar. Produksi yang tak terlalu mewah bukan menjadikannya tak bergairah, tapi lebih kepada pesona kesederhanaan Shawan saat ia menawarkan musiknya lewat Vine dulu. Dan oh ya, 'Life of the Party' versi akustik yang tersedia dalam edisi deluxe ini juga mengandaskan taking over total yang dilakukan Shawn terhadap musiknya. Ini nih yang muda yang berkarya. Cap jempol buat Shawn dan albumnya.
TRACKLIST
1. "Life of the Party" 3:35
2. "Stitches" 3:27
3. "Never Be Alone" 3:36
4. "Kid in Love" 3:46
5. "I Don't Even Know Your Name" 3:00
6. "Something Big" 2:41
7. "Strings" 3:11
8. "Aftertaste" 2:50
9. "Air" (featuring Astrid S) 3:14
10. "Crazy" 3:12
11. "A Little Too Much" 3:07
12. "This Is What It Takes" 3:50
13. "Bring It Back" 2:40
14. "Imagination" 3:38
15. "The Weight" 3:05
16. Don't Want Your Love
17. Lost
Ai Hasibuan
CreativeDisc Contributor
@hasibuanai11
Related posts