Apakah Miley Cyrus Marah Karena Komentar Nicki Minaj Tentangnya Di VMA?
Haris, 6 years ago
0
1 min

read
551
MTV Video Music Awards tahun ini sepertinya tidak terlepas dari drama. Pada saat menerima piala Moonman-nya untuk Best Hip-hop video, Nicki Minaj menyempatkan untuk menyentil sang host acara, Miley Cyrus, yang sebelumnya mengkritisi Minaj untuk pendapatnya tentang pemilihan nominasi VMA tahun ini.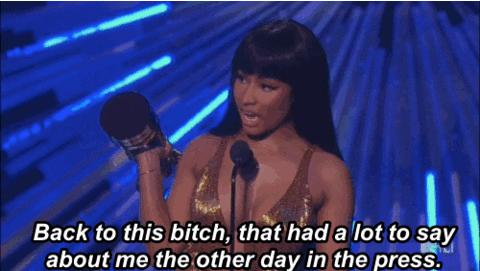 "And now, back to this bitch that had a lot to say about me in the press," kata Minaj setelah menerima piala "Miley, what's good?"
Semua berawal dari komentar Cyrus yang menyebutkan komentar Minaj tidak begitu "nice" dan sopan saat ia diwawancarai oleh New York Times minggu lalu.
Cyrus tetap tenang saat momen kejutan tersebut berlangsung. "We're all in this industry. We all do interviews. We know how they all manipulate," katanya. Tapi Entertainment Weekly menemukan jika lain cerita yang terjadi di belakang panggung, terutama saat kamera tidak lagi menyorot. Cyrus, seperti disebutkan sebuah sumber, marah-marah dan mengutuk-ngutuk sesaat setelah peristiwa tersebut terjadi.
Sedang Minaj sendiri menyempatkan memposting reaksinya akan momen tersebut melalui akun Twitternya:
Lmfaooooooooooooo ???

— NICKI MINAJ (@NICKIMINAJ) August 31, 2015
Apakah ini memang sebuah skenario yang disusun oleh MTV? Menurut sebuah sumber sama sekali tidak dan terjadi secara spontan.
Cyrus sendiri tetap diam di akun sosial medianya semenjak acara VMA berakhir. Perwakilan dirinya tidak segera merespon permintaan Entertainment Weekly untuk sebuah pernyataan, tapi sebuah sumber lain mengatakan jika "Miley wasn't furious. There wasn't anything malicious about all of this in the first place."
Syukurlah kalau begitu. But, aren't we love a bit of drama?
Haris
CreativeDisc Contributor
@oldeuboi
Related posts