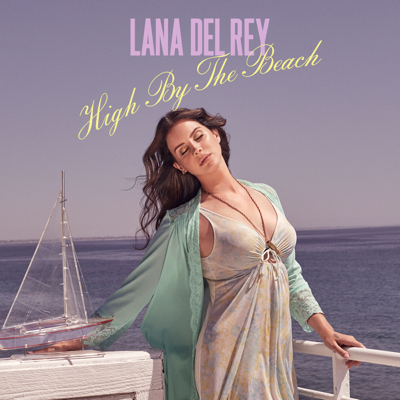 Setelah merilis 'Honeymoon' sebagai teaser untuk album barunya yang berjudul sama, kini Lana Del Rey merilis single resmi pertamanya untuk album tersebut. Berjudul 'High by the Beach', masih harapkan vokal dan atmosfir lagu mengawang dari sang diva sadcore. Ditulis oleh Del Rey bersama dengan Rick Nowels dan Kieron Menzies, 'High by the Beach' seolah mengembalikan dirinya ke masa "Born to Die".
Dalam album "Ultraviolence" (2014), Del Rey seperti ingin keluar dari wilayah aman dengan mengeksplorasi musiknya melalui pendekatan yang lebih luas, meski tentunya masih tetap bercirikan karakteristik dirinya. Nah, dalam 'High by the Beach' tampaknya Del Rey mencoba kembali ke gaya bermusik yang membesarkan namanya. Dalam artian musik pop berbalut electronica yang dikemas sedemikian rupa agar terdengar trippy dan atmosferik.
Sekilas 'High by the Beach' terdengar seperti sebuah lagu up-tempo electro RnB yang dihadirkan dengan lebih melambat dan lirih. Dan jangan kuatir, Del Rey selalu tahu bagaimana membuat lagunya tetap terdengar catchy di pendengaran walaupun terdengar murung dan gelap. Namun jelas Del Rey ingin mengadopsi trend kekinian dalam 'High by the Beach', karena secara umum ia mengikuti ketukan beat ritmis ala trap. Tapi, mengingat ini Lana Del Rey yang kita bicarakan, tentunya trap yang diusung adalah yang mengawang seperti berada di alam mimpi.
Apakah ini merupakan lagu ter-pop dan ter-catchy milik Del Rey? Masih bisa diperdebatkan. Yang pasti Del Rey menegaskan jika gaya bermusik dirinya sulit untuk bisa ditiru oleh orang lain. Dan 'High by the Beach' merupakan penegasan yang kuat untuk itu.
Video musiknya juga tidak boleh dilewatkan. Berseting di sebuah rumah pantai, dikisahkan Del Rey diikuti oleh paparazzi yang terus menguntitnya dengan menggunakan helikopter. Setelah kita mengikuti "kegelisahaan" Del Rey yang dikuntit, akhirnya sang penyanyi seolah tergesa menuju pantai dan mengambil sebuah kotak gitar dari balik bebatuan. Ternyata isinya adalah sebuah senapan mesin besar dan Del Rey menggunakannya untuk meledakkan helikopter penguntitnya. Amazing!
LYRIC
Boy, look at you, looking at me
I know you know how I feel
Loving you is hard, being here is harder
You take the wheel
I don't wanna do this anymore
It's so surreal, I can't survive
If this is all that's real
All I wanna do is get high by the beach
Get high by the beach, get high
All I wanna do is get by by the beach
Get by baby, baby, bye, bye
The truth is I never
Bought into your bullshit
When you would pay tribute to me
Cause I know that
All I wanted to do is get high by the beach
Get high baby, baby, bye, bye
Boy look at you, looking at me
I know you don't understand
You could be a bad motherfucker
But that don't make you a man
Now you're just another one of my problems
Because you got out of hand
We won't survive
We're sinking into the sand
All I wanna do is get high by the beach
Get high by the beach, get high
All I wanna do is get by by the beach
Get by baby, baby, bye, bye
The truth is I never
Bought into your bullshit
When you would pay tribute to me
Cause I know that
All I wanted to do is get high by the beach
Get high baby, baby, bye, bye
Lights, camera, acción
I'll do it on my own
Don't need your money, money
To get me what I want
Lights camera acción
I'll do it on my own
Don't need your money, money
To get me what I want
All I wanna do is get high by the beach
Get high by the beach, get high
All I wanna do is get by by the beach
Get by baby, baby, bye, bye
The truth is I never
Bought into your bullshit
When you would pay tribute to me
Cause I know that
All I wanted to do is get high by the beach
Get high baby, baby, bye, bye
High-igh-igh-igh
[x4]
Everyone can start again
Not through love but through revenge
Through the fire, we're born again
Peace by vengeance
Brings the end
Haris
CreativeDisc Contributor
@oldeuboi
Related posts