Album of The Day: Jewel – Sweet and Wild
welly, 11 years ago
7
2 min

read
1100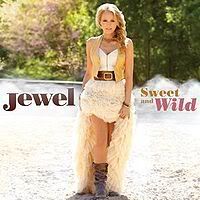 "The theme of this album is finding what's true about you and your life, and defending it and valuing it above all else," Itulah pengakuan Jewel mengenai album studio terbarunya "Sweet and Wild" yang dirilis sejak 8 Juni 2010 ini. Berkaitan dengan tema tersebut, Jewel juga menyatakan bahwa lagu-lagu di dalam album ini akan lebih personal karena ditulis berdasarkan pengalaman pribadi dalam urusan cinta dan kebahagiaan. Untuk urusan musik, Jewel kembali country. Maka akrablah suara gitar akustik, biola, dan drum yang disajikan khas country. Contohnya ya sudah ada, 'Stay Here Forever' yang merupakan soundtrack dari film Valentine's Day. Keceriaan di musiknya serempak menyuarakan lirik tentang cinta dan kasih sayangnya.
Ada 2 lagu yang menurutku seperti dua keping uang logam. 'No Good In Goodbye' dan 'Bad As It Gets'. Satu country rock yang menghentak dan satunya lagi country ballad yang menyayat. Yang satu membujuk untuk mempertahankan suatu hubungan dan yang lainnya larut dalam keputusasaan setelah berakhirnya suatu hubungan. Kalau disuruh milih antara dua, aku lebih milih 'Bad As It Gets' karena lagu tipe gini yang lebih ngena di kupingku. Begitu juga dengan lagu 'What You Are' dan 'Ten'.
Lagu-lagu di dalam album ini dikerjakan oleh Jewel dan di beberapa track ada kemunculan penulis lagu kenamaan. Rick Nowels bekerjasama dengannya untuk lagu 'I Love You Forever'. Komposisi country mid-tempo yang seperti hasil pengembangan dari lagu 'Stay Here Forever'. Brett James membantu di lagu 'One True Thing'. Country standard. Yang aku suka adalah 'Satisfied' yang dibantu oleh Liz Rose. Ini merupakan single keduanya dan memang terdengar stand out dibanding lagu-lagu lain. Piano yang mengiringi dari awal lagu menjadi faktor utama pembeda tersebut. Alat musik gesek dan petik yang muncul di verse kedua baru menambah aroma country-nya.
Alamiah, itu yang aku rasakan di album ini. Jewel dengan vokal dan tampilan 'gadis bergitar'-nya memang alamiah. Enggak susah maksa atau terkesan wannabe. Meskipun aku juga menikmati "0304", tapi musik dalam "Sweet And Wild" ini yang jauh lebih relevan pada vokal Jewel. Oh ya, untuk edisi deluxe, album ini berisi 2 keping CD. 1 keping berisi album standar, dan keping lainnya berisi akustikan lagu-lagu di disc pertama. Enjoy your "Sweet And Wild" moments with Jewel.
(Ai Hasibuan / CreativeDisc Contributors)
Track List:
1. "No Good In Goodbye" (Jewel) – 3:24
2. "I Love You Forever" (Jewel, Rick Nowels) – 4:25
3. "Fading" (Jewel) – 3:35
4. "What You Are" (Dave Berg, Jewel) – 3:40
5. "Bad As It Gets" (Mike Mobley, Rachel Proctor) – 3:54
6. "Summer Home In Your Arms" (Jewel) – 2:55
7. "Stay Here Forever" (Jewel, Dallas Davidson, Bobby Pinson) – 3:00
8. "No More Heartaches" (Jewel) – 2:49
9. "One True Thing" (Brett James, Jewel) – 4:14
10. "Ten" (Dave Berg, Jewel) – 3:25
11. "Satisfied" (Jewel, Liz Rose) – 4:09
Related posts