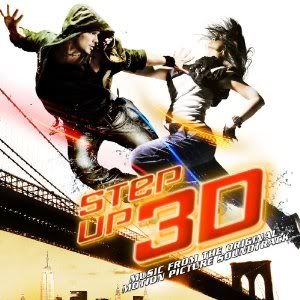 Album "Step Up 3D" soundtrack kali ini sama dengan album soundtrack film-film sebelumnya, berisi lagu-lagu super hot yang selain mewakili filmnya dalam format musik juga menjadi bahan dengar yang yahud. Ga percaya? 'Club Can't Handle Me' contohnya. Lagu dari Flo Rida dan David Guetta ini adalah penggabungan antara hip-hop dan house music yang enggak bisa disangkal lagi catchy-nya. Lagu ini juga merajai tangga lagu di beberapa negara di Eropa. Sayangnya, vokalis cewek di lagu ini enggak dikasih credit untuk dimunculkan sebagai penampil.
Sama dengan Flo Rida, Sophia Fresh dan Trey Songz yang sama-sama mengisi soundtrack "Step Up 2: The Streets" pun masih muncul disini. Sophia dengan T-Pain membawakan sebuah lagu electro hip-hop berjudul 'This Instant' sedangkan Trey dengan lagu 'Already Taken' yang R&B-nya juara banget! Salah satu lagu terbaik dalam album ini, sekaligus salah satu lagu terbaik dari Trey yang aku dengar! His vocal is sweet, sexy, and superb! Saingannya adalah Jesse McCartney yang ngasih satu lagu pop riang yang akan membangkitkan gairah untuk ikutan bergoyang seraya mendengarkannya. Judulnya 'Up'. He's smoking hot!
Pendatang baru Laza Morgan (yang nge-rap dalam lagu 'Start Without You'-nya Alexandra Burke) disini memberi warna reggae dalam lagu berjudul 'This Girl'. Okay, he got me confused him with Akon or Iyaz, tapi lagu ini jelas bisa dinikmati, karena dia menyajikannya dengan tatanan vokal yang santun (tidak seberisik saat bersama Alexandra). Mungkin salah satu lagu yang paling kamu tunggu di album ini adalah kolaborasi mantab dari N.A.S.A, M.I.A, Spank Rock, Santigold, dan Nick Zinner. Lagu 'Whatchadoin?' memiliki segalanya. Fun music, creative sound dengan memakai efek bebunyian signal dan telepon, catchy hook. Fully having fun!
Estelle dan Kardinal Offishall hadir memeriahkan suasana dengan lagu 'Freak' yang merupakan hasil ramuan David Guetta. Club banger abis! Kalau kamu mengira album ini terlalu berisi black music, jangan pasrah begitu aja. Karena black music-nya juga dikasih perasa dance, electro, ada fuse lainnya sehingga enggak monoton. Ada juga lagu reggea dengan Latin sound yang dihadirkan oleh Wisin Y Yandel di lagu berjudul 'Irresistible'. Jadi lebih bervariasi sound di album "Step Up 3D" ini pastinya. Buat yang kamu hobi banget sama film dengan tema dance, jangan lewatkan film Step Up 3D yang dibintangi oleh Rick Malambri, Adam Sevani, Shami Vinson, dan Alyson Stoner ini ya. Ada juga penampilan dari beberapa finalis So You Think You Can Dance di film ini, seperti Ivan Koumaev, Katee Shean, Joshua Allen, Stephen "Twitch" Boss, Jonathan "Legacy" Perez, Ashlee Nino, Tony Bellissimo dan Cedric Gardner. Dan jangan kelewatan juga lagu temanya, 'My Own Step' dari Roscoe Dash bareng T-Pain dan Fabo.
(Ai Hasibuan / CreativeDisc Contributors)
Track List:
1. "Club Can't Handle Me" (Flo Rida feat. David Guetta) 3:52
2. "My Own Step (Theme from Step Up 3D)" (Roscoe Dash and T-Pain feat. Fabo) 4:17
3. "This Instant" (Sophia Fresh feat. T-Pain) 3:54
4. "Already Taken" (Trey Songz) 3:58
5. "This Girl" (Laza Morgan) 3:09
6. "Fancy Footwork" (Chromeo) 3:18
7. "Up" (Jesse McCartney feat. Dapo Torimiro) 2:43
8. "Freak" (Estelle feat. Kardinal Offishall) 3:41
9. "Whatchadoin?" (N.A.S.A. feat. M.I.A., Spank Rock, Santigold and Nick Zinner) 4:10
10. "Tear da Roof Off" (Busta Rhymes) 3:37
11. "Move (If You Wanna)" (Mims) 3:11
12. "Shawty Got Moves" (Get Cool) 3:14
13. "Irresistible" (Wisin & Yandel) 3:06

ps: Album ini sudah direlease oleh Warner Music Indonesia!
Related posts