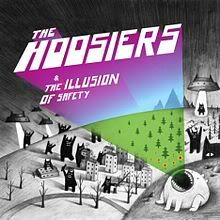 The Illusion of Safety dibuka dengan "Choices" merupakan sebuah track yang bermain di genre musik pop rock yang dicampur dengan polesan synth dengan beat yang unik dan juga lirik yang bernada amarah di bagian reffnya dan dieksekusi dengan cukup baik dengan musiknya. Mereka mengulang kembali nuansa lagu "Disco 2000" yang dinyanyikan oleh Keane (bukan versi originalnya yang dibawakan oleh Pulp) di "Bumpy Ride". Dominasi musik yang electry menjadi bumbu utama di album ini. Di "Who Said Anything (About Falling In Love)?", sedikit berdown tempo sedikit, dibalut dengan nuansa balada dengan lirik yang puitis dan pembawaan falset dari "vokalisnya" (entah mengapa saya mendengar ada efek auto-tune disini yang membuat kadar vokal disini menjadi berkurang kualitasnya).
Opening synth membuka "Unlikely Hero" yang memutar kembali ke era new wave di tahun 80-an. Heavy synth + comical lyrics + good keyboard tunes make this track so cool dan meraup kembali nuansa "Worst Case Scenario". "Lovers In My Head" bisa dikatakan cukup nanggung. Tapi murni pop rock di sini tidak tercampuri oleh musik electric yang mendominasi justru dentingan piano yang manis terdengar di sini. "Live By The Ocean", berlandaskan pada piano dan gitar yang lumayan seru, tapi sayangnya ada rasa kurang "sreg" disini. "Devil's In The Detail", cukup trippy dan dark. "Glorious", adalah track upbeat,elegan dan mewah,ada cuilan The Killers "Spaceman" di lagu ini. Mereka seolah memasukkan Kaiser Chiefs ditambah Keane (pasca album ketiga) di "Made To Measure". Ada yang merasakan juga bahwa track "Giddy Up" merupakan track yang beatnya dan musiknya terpengaruh dengan musik pop yang sedang marak? Jika iya berarti Anda sejalan dengan saya. Jika ditilik kembali seolah ada campur tangan produser Dr.Luke disini.
Track terpanjang di album ini "Sarajevo", adalah track terbaik di album ini. Meskipun durasinya cukup lama disini namun mereka cukup eksperimentalis dan beda dengan track-track sebelumnya. Dan penutupnya "Little Brutes" yang menghadirkan orkestrasi di awal sebelum hanya gitar akustik dan ukulele yang mengiringi lagu. Lagu ini sendu dan downtempo.
Trio ini sekarang sudah menanggalkan musik rock yang mereka usung dulu dan beralih ke sound yang lebih elektrik, memakai banyak keyboard dan synth. Dengan menambahkan unsur new wave,pop bahkan electropop. Tidak ada lagi track macam "Worry About Ray" atau "Goodbye Mr.A". Transformasi ini juga pernah dilakukan Keane di album ketiga mereka yaitu "Perfect Symmetry" dan berujung pada menurunnya angka penjualan mereka dan ditinggalkan oleh fansnya yang menyukai mereka dengan format piano rocknya. Akankah The Hoosiers mengalami nasib seperti itu? Well, jika label mereka tepat memilih next single yang berkualitas dan juga bisa mencakup telinga pasar, bukan tak mungkin mereka bisa menyamai atau melebihi kepopuleran album debut mereka.
Official Website The Hoosiers
(Luthfi / CreativeDisc Contributors)
Track List:
No. Title Writer(s) Length
1. "Choices" The Hoosiers, Toby Smith 2:48
2. "Bumpy Ride" The Hoosiers, Jodi Marr, George Norriega 3:59
3. "Who Said Anything (About Falling in Love)?" The Hoosiers, Eg White 3:05
4. "Unlikely Hero" The Hoosiers 3:50
5. "Lovers in My Head" The Hoosiers 3:39
6. "Live by the Ocean" The Hoosiers 4:03
7. "Devil's in the Detail" The Hoosiers 3:13
8. "Glorious" The Hoosiers 4:46
9. "Made To Measure" The Hoosiers 4:21
10. "Giddy Up" The Hoosiers 2:59
11. "Sarajevo" The Hoosiers 5:44
12. "Little Brutes" The Hoosiers 3:21
Related posts