Behind The Music: Stock, Aitken & Waterman (SAW)
welly, 11 years ago
6
4 min

read
1501
'I Should Be So Lucky' – Kylie Minouge
'Never Gonna Give You Up' – Rick Astley
'You Spin Me Round (Like A Record), Donna Summer
'This Time I Know It's For Real' – Dead or Alive
'Especially For You' – Kylie Minogue & Jason Donovan
'Too Many Broken Heart' – Jason Donovan
'You'll Never Stop Me From Loving You' – Sonia
'That's What Love Can Do' – Boykrazy
'Last Thing On My Mind' – Steps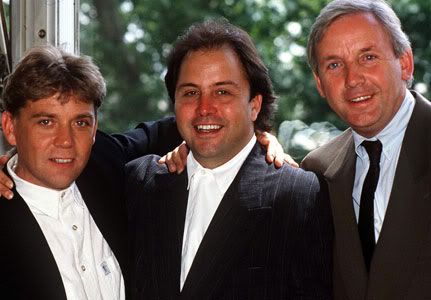 Siapa produser/pencipta lagu yang berada di belakang kesuksesan nama-nama tersebut? Bukan hanya satu, tapi tiga. Trio Michael Stock, Matthew J. Aitken dan Peter A. Waterman, yang juga lebih dikenal dengan singkatan SAW, kadang ada juga yang menyebut The Hit Factory, adalah penulis lagu, musisi, dan produser musik yang sangat sukses di era akhir 80an sampai awal 90an. Dengan 100 UK Top 40 hits, dan penjualan 50 juta keping rekaman hingga kini. Jenis musik SAW sebenarnya adalah Italo Disco (musik disco ringan yang kerap dibawakan artis-artis asal Italia). Tapi mereka mengawali karirnya sebagai DJ dari jenis musik disco yang kala itu disebut Hi-NRG. Hanya, dalam meproduksi lagu-lagu mereka sendiri, mereka menggabungkan lirik lagu ala Motown era yang romantis, eurobeat (terutama pada hentakan bass nya), sedikit swing terhadap irama Italo Disco yang menjadi dasar genre nya. Selain memproduksi lagu sendiri, SAW juga sukses me-remake lagu-lagu lawas tahun 50an sampai 70an yang sukses dibawakan ulang oleh penyanyi-penyanyi di era akhir 80an sampai awal 90an tersebut. Terkesan ada unsur retro, tapi tetap fresh untuk era trend musik kala itu.
Nama SAW kerap dikaitkan dengan Pete Waterman Record (PWL), label rekaman yang dimiliki oleh Pete Waterman. Hits pertama PWL dan SAW yang menjadi nomor satu di UK adalah 'You Spin Me Around Like A Record' oleh Dead or Alive. Kemudian sukses mendunia mereka yang juga sempat menjadi nomor 1 di Billboard Hot 100 Pop Chart di Amerika adalah saat mereka me-remake lagu Shocking Blue berjudul 'Venus', dibawakan oleh trio cewek Bananarama.Kemudian Banarama pun melibatkan SAW sebagai produser di berbagai album mereka dengan hits-hits sererti 'Love In The First Degree', 'I Heard A Rumor', dll. Kemudian sukses SAW pun berlanjut dengan dirilisnya album pertama Rick Astley, "Whenever You Need Somebody". Suara berat Rick Astley membawakan lagu-lagu pop disko ringan ala SAW menjadi sesuatu yang unik saat itu. Di akhir tahun 80an, artis terpopuler nya adalah Kylime Minogue, aktris soap opera Neighbours di TV Australia dengan single hits 'Loco-motion', 'I Should Be So Lucky', 'Hand On Your Heart', dll.
Dilanjutkan dengan Jason Donovan ('Nothing Can Devide Us', 'Too Many Broken Heart'), Donna Summer di album "Another Time And Place" ('This Time I Know It's For Real', 'Breakaway'), Samantha Fox ('Nothing's Gonna Stop Me Now'), dan Sabrina Salerno ('All of Me'). Pada awal tahun 90an, SAW yang kerap menerapkan kontrak "artist development" pada artis-artis orbitannya (dimana arah musik, image, dan promosi si artis diatur sempenuhnya oleh SAW), juga mengorbitkan artis baru yang juga populer seperti Sonia Evans ('You'll Never Stop Me From Loving You'), Big Fun ('Promises', 'Blame It On The Boogie'), Sybil ('Make It Easy On Me'), Boykrazy ('That's What Love Can Do'), dan Reynold's Girls ('I'd Rather Jack'). Kemudian setelah itu, karya-karya SAW, seperti juga bubblegum pop di Amerika seperti Tiffany, Debbie Gibson, dan NKOTB mulai kehilangan popularitasnya. Tapi, pada penghujung tahun 90an, yaitu tahun 1997, Stock dam Aitken (tanpa Waterman) sempat menghasilkan hits untuk grup Steps (lagu 'Last Thing On My Mind' dan 'One For Sorrow'). Steps juga sempat me-remake karya SAW di album mereka yaitu, 'Better The Devil You Know' (Kylie Minogue) dan 'Make It Easy On Me' (Sybil).
Pada tahun 2005, SAW reuni kemabil dan merilis edisi special CD+DVD album: SAW Gold berisi singel-single hits mereka yang paling dikenal. Mereka dikabarkan bekerjasama kembali, meski belakangan Aitken pun mengundurkan diri. Meskipun masa jaya mereka sudah berakhir, penikmat musik akhir 80an sampai awal 90an akan selalu mengengang karya-karya SAW.
Produksi SAW-produced yang menduduki posisi No. 1 UK pop chart:
* 1985 "You Spin Me Round (Like a Record)", Dead or Alive
* 1987 "Respectable", Mel and Kim
* 1987 "Let It Be", Ferry Aid, a cover of the 1970 Beatles' hit
* 1987 "Never Gonna Give You Up", Rick Astley
* 1987 "I Should Be So Lucky", Kylie Minogue
* 1989 "Especially for You", Kylie Minogue and Jason Donovan
* 1989 "Too Many Broken Hearts", Jason Donovan
* 1989 "Hand on Your Heart", Kylie Minogue
* 1989 "Ferry Cross the Mersey", Christians, Holly Johnson, Paul McCartney, Gerry Marsden and SAW, a cover of the Gerry and the Pacemakers' 1964 hit
* 1989 "Sealed with a Kiss", Jason Donovan, a cover of the Brian Hyland single
* 1989 "You'll Never Stop Me Loving You", Sonia
* 1989 "Do They Know It's Christmas", Band Aid II
* 1990 "Tears on My Pillow", Kylie Minogue's cover of the 1958 song by Little Anthony and the Imperials
Produksi SAW-produced yang menduduki posisi No. 1 USA pop chart:
* 1986 "Venus", Bananarama, cover lagu Shocking Blue di tahun 1969.
* 1988 "Together Foverve", Rick Astley
(Review by Erwin Sagata)
Related posts