Album of The Day: Ke$ha – Animal + Cannibal
welly, 12 years ago
38
5 min

read
1863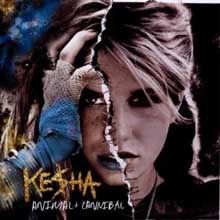 Mendekati akhir tahun lalu, saat Ke$ha memulai semuanya dengan 'TiK ToK' yang berakhir ke dominasi Billboard Hot 100 Singles. Media pun mulai menulis tentangnya sebagai artist to watch di tahun ini. Kenyataannya memang demikian. Ke$ha memulainya dengan sangat indah. Dan kini, album pertamanya digabung dengan album berikutnya, "Animal + Cannibal" adalah item adiktif ganda. Dengan gaya urakan, Ke$ha mengisi tempat penyanyi perempuan yang nakal, mau menunjukkan kalau perempuan juga bisa lebih urakan daripada laki-laki dan semangat party-hard nya membara. Belum lagi pernyataan bahwa dirinya anti-dress up, so garbage chic is now in again. Orisinil dan refreshing.
The new bitch on the block, itu yang ada dalam lirik lagu 'Crazy Beautiful Life'. Agaknya lagu ini memang mewakili apa yang Ke$ha alami selama setahun ke belakang. Party, having fun, dan massive success. Menggiring kita pada kehebatan 'TiK ToK' yang kesan pertama berupa another white girl trying to be M.I.A with annoying rap style, namun akhirnya berkesimpulan kalau lagu ini bagus dan ngangenin. Trus 'Party at a Rich Dude's House' dan 'Take It Off' juga ga kalah asyik buat dance, tapi one of the best track you'll have from her is 'Your Love Is My Drug' yang tepat sebagai pembuka album "Animal". Di hampir semua lagu Ke$ha terdengar seperti penyanyi perempuan J-Pop sok imut seperti di lagu 'Kiss N Tell' from which you'll get J-Pop mix Katy Perry ambiance. Another favorite adalah 'Blah Blah Blah' menampilkan kolaborasi dengan 3Oh!3 yang experimental, cukup menyegarkan dari sound sok imut beberapa track sebelumnya. Surprise terjadi di ballad 'Hungover' yang menunjukkan kalo Ke$ha sebenarnya bisa menyanyi dengan suara 'normal', agak mengingatkan dengan suara Avril Lavigne, begitu juga dengan 'Dancing With Tears In My Eyes' yang menunjukkan sisi sensitif (dan introspektif) Ke$ha yang liar.
Selanjutnya, "Cannibal" dibuka dengan 'Cannibal' yang mengajak party a la bar bar. Banyak yang bilang kalau lagu ini lebih bagus ketimbang 'We R Who We R'. Tapi buatku, hook yang dipergunakan Ke$ha di 'Cannibal' itu terlalu TiKToK-centris, sedangkan 'We R Who We R' bebas dari kesan deja vu dari single manapun yang pernah ditampilkannya. Liriknya yang up-lifting yang dibalut musik super catchy, namum tetap membuat single andalannya ini benar-benar beda dari lainnya. Lagu lainnya pun mengajak kita untuk ikut serta dalam suasana party yang tercipta; 'Sleazy', 'Blow', dan 'Gow A Pear'. Gaya rap-nya makin menjadi, dance beat-anya pun makin membara. Seperti "Animal", album ini pun berisi beberapa track yang dibawakan dalam mid-tempo. Seperti 'The Harold Song' (menimbulkan kesan mirip Katy Perry juga), 'C U Next Tuesday', juga 'Animal (Billboard Remix)'.
For the record, she co-wrote all tracks in her album, well, girl-friend has some talent here. 2 keping CD ini memang bicara banyak tentang Ke$ha, tentang memuaskan gairah dance kita, tentang memanjakan telinga dengan mendengarkan materi album yang sangat adiktif plus catchy. We said: Buy the CD, follow the beat just don't follow Ke$ha's garbage-chic style, it's not good for us here, might as well called pemulung-chic. Ga bakalan rugi. Kamu hanya menambah 10ribu dari harga CD standar, dan nikmati musik dengan total 23 lagu plus 3 konten bonus dari enhanced deluxe disc. Puas!
By Rio + Ai Hasibuan
Track List:
Animal
1. "Your Love Is My Drug" Kesha Sebert, Pebe Sebert, Joshua Coleman Dr. Luke, Benny Blanco, Ammo 3:06
2. "Tik Tok" K. Sebert, Lukasz Gottwald, Benjamin Levin Dr. Luke, Benny Blanco 3:19
3. "Take It Off" K. Sebert, Gottwald, Claude Kelly Dr. Luke 3:35
4. "Kiss n Tell" K. Sebert, Gottwald, Max Martin, Shellback Dr. Luke, Max Martin 3:27
5. "Stephen" K. Sebert, David Gamson, P. Sebert, Oliver Leiber David Gamson, Oliver Leiber 3:32
6. "Blah Blah Blah" (featuring 3OH!3) K. Sebert, Levin, Neon Hitch, Sean Foreman Benny Blanco 2:52
7. "Hungover" K. Sebert, Gottwald, Martin, Shellback Dr. Luke, Max Martin, Ammo 3:52
8. "Party at a Rich Dude's House" K. Sebert, Shellback, Levin Shellback, Benny Blanco 2:55
9. "Backstabber" K. Sebert, Gamson, Marc Nelkin, Jon Ingoldsby David Gamson 3:06
10. "Blind" K. Sebert, Gottwald, Levin, Coleman Dr. Luke, Benny Blanco, Ammo 3:17
11. "Dinosaur" K. Sebert, Martin, Shellback Max Martin, Shellback 2:55
12. "Dancing with Tears in My Eyes" K. Sebert, Gottwald, Levin, Kelly Dr. Luke, Benny Blanco 3:29
13. "Boots & Boys" K. Sebert, Tom Neville, Olivia Nervo, Miriam Nervo Tom Neville 2:56
14. "Animal" K. Sebert, Gottwald, Greg Kurstin, P. Sebert Greg Kurstin 3:57
Cannibal
1. "Cannibal" Kesha Sebert, Joshua Coleman, Mathieu Jomphe, Pebe Sebert Ammo, Billboard 3:14
2. "We R Who We R" K. Sebert, Lukasz Gottwald, Benjamin Levin, Coleman Dr. Luke, Benny Blanco, Ammo 3:24
3. "Sleazy" K. Sebert, Gottwald, Levin, Shondrae Crawford, Klas Åhlund Dr. Luke, Benny Blanco, Bangladesh 3:25
4. "Blow" K. Sebert, Gottwald, Levin, Åhlund, Max Martin, Allan Grigg Dr. Luke, Benny Blanco, Max Martin 3:40
5. "The Harold Song" K. Sebert, Coleman Ammo 3:58
6. "Crazy Beautiful Life" K. Sebert, Gottwald, Martin, P. Sebert Dr. Luke 2:50
7. "Grow a Pear" K. Sebert, Gottwald, Levin, Martin Dr. Luke, Benny Blanco, Max Martin 3:28
8. "C U Next Tuesday" K. Sebert, David Gamson, Marc Nelkin David Gamson 3:45
9. "Animal" (Billboard Remix) K. Sebert, Gottwald, Greg Kurstin, P. Sebert Billboard 4:15
Deluxe Enhanced CD Includes:
10. Stephen (Music Video)
11. Animal (Music Video)
12. Take It Off (K$ N Friends Version)
Related posts