Music Newz Bites – 16 Aug
welly, 10 years ago
10
2 min

read
282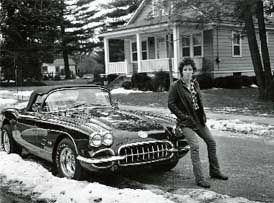 Legenda musik Bruce Springsteen akan tampil dalam film dokumenternya yang berjudul "The Promise: The Making Of Darkness On The Edge Of Town". Film ini akan menampilkan kejadian-kejadian masa lalu yang belum pernah ditampilkan sebelumnya, berikut beberapa wawancara yang baru-baru ini dilakukan. Patti Smith akan hadir di film di film ini, dan juga Danny Federici, anggota band E Street sebelum dirinya meninggal juga ada. "The Promise" akan tayang perdana di Toronto International Film Festival tanggal 14 September mendatang dan akan diputar di HBO di bulan Oktobernya.
Bersiap-siaplah untuk berdansa lagi, karena Dance Diva Donna Summer telah meluncurkan single terbarunya 'To Paris With Love' 9 Agustus lalu. Lagu ini menurut Donna adalah sesuatu yang spesial untuk fans di musim panas tahun ini. Single ini juga dikemas dalam 7 versi remix oleh Wictor Mysliwiec and Michal Bojanowic, Eddie Amador, Craig Christensen, Jonathan Mendelsohn, DJ DLG and Automatic Panic. Donna sangat excited dengan single ini, "I want people to feel transported, whether they're listening on the dance floors of Ibiza or on their headphones at work. The idea is to let them escape into that magic world." Album terakhir Donna adalah Crayons dari tahun 2008.
Dikabarkan kalau Hilary Duff telah menikah dengan pemain hoki profesional Mike Comrie di tanggal 14 Agustus kemarin. Ini setelah menjalani proses pacaran sejak tahun 2007 lalu yang akhirnya bertunangan di bulan Februari 2010 lalu. Kabarnya lagi, mereka menikah di San Ysidro Ranch, Santa Barbara, California. Tempat yang sama dulunya merupakan lokasi bulan madunya Presiden John F. Kennedy bersama sang istri Jacqueline. Wah, selamat ya buat Hilary dan Mike. Semoga langgeng sampe ke anak cucu.
Rumor yang beredar mengenai operasi payudara yang dijalani popstar Miley Cyrus memang mengejutkan. Setelah habis-habisan mengubah citranya lewat 'Can't Be Tamed', kini putrinya Billy Ray Cyrus tersebut melangkah lebih jauh lagi. Berita ini dimuat dalam laporan Star Magazine dan menyatakan kalau Miley sudah memilih ahli bedahnya sekaligus meminta izin dari ortunya dengan menandatangi beberapa berkas perizinan. Miley bahkan dikatakan pengen menyamai bentuk payudara mirip Holly Madison, bintang serial The Girls Next Door. Untungnya sebuah sumber melalui mtv.co.uk menyatakan kalau berita ini ga benar.
Tebak nama apa yang akan Cheryl pake setelah dinyatakan resmi bercerai dari Ashley? Anggota girlband Girls Aloud ini akan tetap menggunakan nama Cheryl Cole dalam proyek solonya, bukan Cheryl Tweedy. Nama ini akan tetap dia gunakan, sebagai juri X Factor, nama dalam album solo keduanya, sampai kapanpun. Ini bukan kejadian kali pertama, karena sebelumnya Tina Turner yang berpisah dari Ike Turner juga tetap memakai nama belakang sang mantan suami. Cheryl memutuskan demikian karena sedang berada dalam masa promo di kawasan Eropa dan penggantian nama ke Tweedy dianggap berpotensi memunculkan kebingungan. Cheryl sekarang sedang berada di Los Angeles mengerjakan album keduanya dan bersama Comic Relief BBC akan melakukan kampanye melawan malaria.
Related posts