Album of The Day: Pink – Greatest Hits… So Far!!!
welly, 11 years ago
16
3 min

read
1097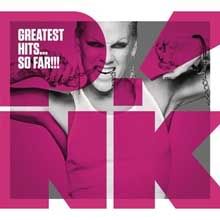 Biasanya sebuah album Greatest Hits merupakan satu titik balik. Kulminasi akan semua pencapaian sebelum memulai lagi sebuah awal yang baru. Rasanya mengumpulkan karya terbaik dari 5 album akan sedikit sulit. Apalagi kalau memang banyak single hits yang telah familiar di telinga. Bagaimana dengan album Greatest Hits.. So Far milik Pink ini? Secara personal, saya menyukai sosok Pink. Dengan semua image yang dia bangun, bisa mematahkan stereotype bagaimana perempuan idaman. Begitu pula dengan lagu-lagunya. Straight to the point yang terkadang menohok kenyataan. Terdengar sangat maskulin tanpa melupakan sifat manis dari seseorang perempuan.
Dalam urutan album ini kita akan disuguhkan oleh pembuka "Get The Party Started". Sebuah track yang membawa nama Pink dalam ranah mainstream industry musik. Inilah era paling akrab, paling familiar dari album Mizzunderstood. Track ini tidak hadir sendiri. Ada 3 track yang sangat emosional, Just Like a Pill, Don't Let Me Get Me, dan Family Portrait.
Memasuki era Pink sebagai seorang bad-ass, kita akan disuguhi track Trouble. Dimana dominasi rock akan sangat kental terasa. Sayangnya ada 2 track yang kelupaan dari album Try This. Yaitu mahakarya God is a Dj, dan Feel Good Time yang dijadikan soundtrack Charlie's Angel.
Sepertinya memang tidak fair pembagiannya. Karena sama dengan dari debut album Can't Take Me Home yang rilis tahun 2000, hanya satu track saja yang mewakilinya. Yaitu There You Go. Sedangkan ada 5 track yang diambil dari album I'm Not Dead yang dirilis pada tahun 2006.
Seperti sebuah fase kehidupan, di album I'm Not Dead ini memang lebih banyak berkisar mengenai dinamika sebuah hubungan. Baiknya naik turunnya emosi akan terwakili lewat track-track seperti Who Knew and U+Ur Hand. Sebuah album yang sarat dengan emosi. Sedikit banyak menyerupai album Mizzunderstood, dengan versi yang berbeda.
Dari album terakhir, FunHouse, kita akan disuguhi track yang sudah sangat beragam. Dia sangat bengal di So What, serta menjadi sangat melankolis di track Please Don't Leave Me serta I Don't Believe you.
Inilah hebatnya seorang Pink. Dari deretan karyanya, kita masih bisa melacak namanya sebagai produser juga. Selain berpartner dengan Linda Perry, deretan nama Max Martin, Tony Kanal, Billymann, dan Shellback pernah menjadi tandemnya dalam melahirkan karya-karya bagus. Mereka mengetahui dengan persis, vokal Pink, bisa dibentuk seperti apa lagi.
Album ini terasa kurang? Bagaimana dengan 2 track baru yang ditambahkan? Well, Raise Your Glass dan F**kin Perfect juga mendominasi. Memperlihatkan inilah bentuk evolusi terakhir dari musik Pink. Setelah melalui banyak drama dalam karir dan juga kehidupan. God save Pink! Cheers!
(iQko / CreativeDisc Contributors)
Track List:
1. "Get the Party Started" Pink, Linda Perry 3:12
2. "There You Go" Kevin "She'kspere" Briggs, Kandi Burruss, P!nk 3:26
3. "Don't Let Me Get Me" Dallas Austin, P!nk 3:31
4. "Just Like a Pill" Dallas Austin, P!nk 3:57
5. "Family Portrait" P!nk, Scott Storch 4:56
6. "Trouble" Tim Armstrong, P!nk 3:13
7. "Stupid Girls" Pink, Billy Mann, Robin Mortensen Lynch 3:16
8. "Who Knew" Pink, Max Martin, Lukasz Gottwald 3:28
9. "U + Ur Hand" Pink, Martin, Gottwald, Rami 3:34
10. "Dear Mr. President" (featuring Indigo Girls) Pink, Mann 4:33
11. "So What" Pink, Max Martin, Shellback 3:35
12. "Sober" Pink, Nathaniel Hills, Kara DioGuardi, Marcella Ariaca 4:11
13. "Please Don't Leave Me" Pink, Max Martin 3:52
14. "Funhouse" (Deluxe Edition bonus track) Pink, Tony Kanal, Jimmy Harry 3:25
15. "I Don't Believe You" (Deluxe Edition bonus track) Pink, Max Martin 4:36
16. "Glitter in the Air" Pink, Billy Mann 3:45
17. "Raise Your Glass" Pink, Max Martin, Shellback 3:24
18. "F***in' Perfect" Pink, Max Martin, Shellback 3:32
Related posts