The Voice Season 5: Top 6
Haris, 9 years ago
0
5 min

read
1841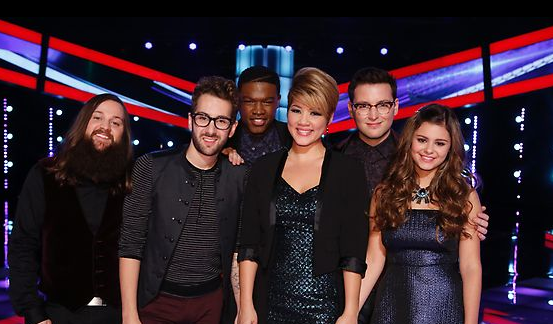 Tantangan yang harus dihadapi oleh para peserta yang bertahan di babak Top 6 The Voice season 5 ini adalah menyanyikan dua buah lagu. Satu adalah pilihan coach masing-masing, dan satunya lagi adalah pilihan sendiri. Lima akan melaju ke babak semifinal pekan depan.
#TeamBlake Cole Vosbury – Rich Girl (Pilihan Coach)
Setelah sukses mengantarkan Cole ke ranah country pekan lalu, sekarang pun ia kembali menyalakan semangat itu untuknya. Bedanya, lagu dengan tempo yang lebih cepat yang Blake pilihkan untuknya. Cole mendapat hadiah gitar kidal dari rekan Blake. Cole adalah kisah yang sangat menarik di season ini. Ia mengawalinya dari yang tak terunggulkan menjadi frontrunner. Penampilan pertamanya ini tampak begitu mudah baginya.
B: You're such a pearl, you're so clear on stage.
C: Great job today, what else I can say.
A: I love listening to you everytime you're up here.
#TeamAdam Tessanne Chin – Redemption Song (Pilihan Coach)
Tessanne agak dilematis saat Adam memilihkan lagu Bob Marley untuknya. Ia senang dengan lagu yang menghubungkan dirinyanya dengan kultur, namun tanggung jawab yang besar agak membuatnya khawatir sesaat. Ini nyaris menjadi penampilan puncak dari Tess selama kompetisi.
A: Everybody, not only in Jamaica, proud of you for that.
X: Really lovely, great job.
#TeamXtina Matthew Schuler – Story of My Life (Pilihan Kontestan)
Matthew memilih lagu One Direction dan mendedikasikan penampilannya untuk keluarga dan orang-orang terdekatnya. Sebagai artis yang sering membawakan lagu-lagu epik, gaya folk dalam lagu ini adalah kejutan yang Matt berikan di panggung The Voice.
X: You always have this way of truly making it your own.
A: After Halellujah, it becomes more difficult for you to suppress that.
Carson Daly tampil di Sprint Skybox untuk menampilkan jawaban dari #AskCarson lewat Twitter.
#TeamAdam Will Champlin – Change Is Gonna Come
Persembahan yang Will buat dalam penampilannya kali ini adalah untuk istri dan putrinya. Will sempat bermain piano sebagai intro di penampilannya kali. Di bagian verse, vokal Will terdengar sangat terpengaruh oleh coach-nya, Adam Levine.
A: This dude can play. That dude is a badass player.
C: You definitely got soul, most importantly you got heart.
#TeamAdam James Wolpert – Fell In Love With A Girl (Pilihan Kontestan)
Ayah adalah dedikasi yang diberikan James di kesempatan kali ini. I don't know. Ia tampak marah saat membawakan lirik yang rapat dalam lagu ini. Ia juga terdengar kehilangan tempo di pertengahan lagu.
A: It felt nice, I love that version of it.
B: That's just James, that's just what James does.
#TeamXtina Jacquie Lee – Cry Baby (Pilihan Coach)
Dimanika yang dimiliki Jacquie membuat Christina Aguilera percaya bahwa ia bisa menemukan koneksi dengan penyanyi lagu ini, Janis Joplin. Kenyataan bahwa dirinya belum memiliki pengalaman romansa membuatnya agak kesulitan menemukan hubungan emosional dengan lagu ini. Sesi latihan Jacquie dan Christina sangat emosional saat mereka bercerita dari hati ke hati. Di penampilan kali ini, Jacquie tampak mulai belajar untuk menguasai growl dari coach-nya.
X: The courage that it takes, it's true. I saw so much myself in you.
C: It's truly amazing. You truly embody that aspiration in such young age.
A: If that's you having not have your heart broken, I do now wanna see Jacquie when her heart broken.
#TeamBlake Cole Vosbury – Better Man (Pilihan Kontestan)
Agak aneh memang, tapi Cole mendedikasikan penampilannya kepada cinta pertamanya. Alasannya adalah meskipun mereka tak lagi bersama, ia tetap membuat Cole ingin menjadi "Better Man". Ketika ia tampil down tempo, ia jauh lebih menguasai arena.
B: You're showing dimension. You can do it all.
C: I'm seeing you articulate your emotion.
X: You've been accurate.
#TeamAdam Tessanne Chin – Unconditionally (Pilihan Kontestan)
Meskipun tak lagi bersama, kedua orang tua Tessanne tetap membuatnya memiliki keluarga yang utuh. Dedikasinya disalurkan lewat lagu Katy Perry. This could be a hit for Tess. Unconditionally!
A: Every single word you sing, I'm always so drown in. You never let me down.
B: You're a world class vocalist.
#TeamXtina Matthew Schuler – When A Man Loves A Woman (Pilihan Coach)
Belum ada soulful moment dari Matthew, maka dari itu, Christina memilihkan lagu ini untuknya. Matt punya segala alasan untuk khawatir pekan ini. Dua pekan lalu, artis yang mendapatkan fasilitas #InstantSave otomatis tersisih di pekan berikutnya. Dengan dua penampilan yang dipersembahkannya, Matt pantas melaju ke semifinal.
X: You has really shown how many different things you're able to do. You're so versatile.
B: That was as good as I've heard you sing.
#TeamAdam Will Champlin – Hey Brother (Pilihan Coach)
Kompleksnya lagu ini adalah pilihan yang unik Adam tugaskan bagi Will. Luar biasa, Will menemukan peak baru baginya pekan ini. I would love to see him competing in the final.
A: You're a really powerful vocalist. I wanna hear more.
B: By the way, I like the banjo. Banjos! Cool.
#TeamXtina Jacquie Lee – The Voice Within' (PIlihan Kontestan)
Akhirnya, Jacquie memiliki kesempatan untuk menyanyikan lagu coach-nya, Christina. Dedikasi yang Jacquie buat pun untuk Christina Aguilera. It's almost a moment for her. Almost.
X: This is the most age appropriate for you.
#TeamAdam James Wolpert – I'd Do Anything For Love (Pilihan Coach)
Setelah pekan lalu berlaku teatrikal, Adam memberikan follow up-nya kepada James. Lagu Meatloaf ini dipandu Adam untuk dinyanyikan secara dramatis, bukan berlebihan. James sedikit terbantu dengan latar belakang drama yang pernah ia mainkan di sekolah dulu. Transformasi dari deras ke senyap yang James tampilkan lebih luwes ketimbang penampilan Jacquie sebelum dirinya.
A: I thought you did an amazing job.
C: I think you did embody the rock opera.
RESULT SHOW
Guest Star Performance: Kelly Clarkson – Underneath The Tree
Guest Star Performance: Blake Shelton & Xenia – Silver Bells
Bottom 2: Matthew Schuler dan James Wolpert
Instant Save: James Wolpert
Eliminated: Matthew Schuler
(Ai Hasibuan / CreativeDisc Contributor)
Related posts