The Voice Season 5: Top 8
Haris, 8 years ago
1
4 min

read
618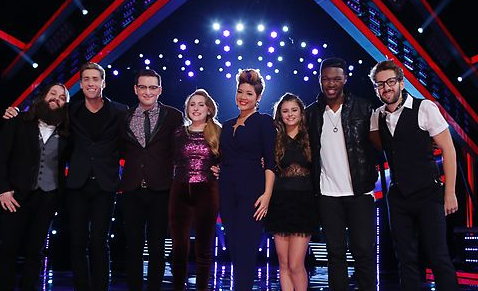 The Voice adalah gudangnya bakat. Hingga pekan ini, ada delapan yang tersisa bertarung untuk gelar The Voice berikut hadiah kontrak rekaman yang datang bersamanya. Sebelum kompetisi pekan ini dimulai, Carson Daly mengajak penonton untuk menyambut penampilan istimewa dari artis yang sempat mampir sebagai advisor untuk The Voice, Robin Thicke yang membawakan single terbarunya, 'Feel Good'.
Top 8 terbagi dalam posisi 1 untuk #TeamCeeLo, 2 masing-masing untuk #TeamXtina dan #TeamBlake, 3 untuk #TeamAdam.
#TeamAdam James Wolpert – Somebody To Love
Jika ada satu lagu yang saya sangat ingin haramkan untuk dibawakan dalam kompetisi bernyanyi adalah lagu Queen yang satu ini. Selama perjalanan The Voice-nya, James adalah sosok yang mengejutkan karena gaya culunnya agak kurang sesuai dengan kemampuan vokalnya yang nge-rock. But then again, penampilannya minggu ini seperti dikalahkan oleh lagunya. Bottomline, he's just trying so hard in this song.
A: You could sing in Queen. You own the entire place.
B: It was dynamic, it was dramatic. It's a solid performance.
X: That was a lot of fun. I felt like I was watching a Broadway show.
C: It was just utterly impressive.
#TeamAdam Tessanne Chin – Underneath It All
Pekan lalu, Christina Aguilera sempat berkomentar mengenai ciri Jamaika yang harus dibawakan oleh Tessanne. Untuk itu, Adam Levine memilihkan lagu No Doubt baginya. Kesempatan pun tercipta bagi Tess untuk menampilkan ciri sekaligus sisi fun yang belum pernah ia tampilkan sebelumnya. Tak peduli betapa fun lagu ini dan betapa lebar senyum yang ia buat, ekspresi wajah Tess tetap seperti biasa: stress sepanjang lagu.
A: It was just so tailor made for you.
C: It was awesome.
X: I finally heard something I was searching for.
#TeamCeeLo Caroline Pennell – Dog Days Are Over
Apa yang salah dengan sistem coaching yang CeeLo Green terapkan padanya? Dulu ia sangat ceria, pemalu, dan menyenangkan. Belakangan, ia tampak terlalu serius. Yang memperparah keadaan adalah CeeLo mendorongnya untuk menampilkan lagu Florence + The Machine. Sepertinya ada manual untuk lagu ini yang menghapus ciri Caroline agar sepenuhnya sirna dalam penampilannya. Damn you, CeeLo! Dan komentar juri, seperti restu akan kehilangan dirinya dari kompetisi.
C: Such a young lady perform with so much poise and so much pressure.
A: You did it really well. You did the best thing you could possibly do.
Setelah menghabiskan terlalu banyak untuk cuplikan-cuplikan sebelum istirahat iklan, The Voice menampilkan Sprint Skybox dan penampilan empat kontestan: Cole, Ray, Tessanne, dan Will menyanyikan 'One Day'.
#TeamBlake Cole Vosbury – I Still Believe In You
Kesempatan sekali seumur hidup adalah hadiah yang tak ternilai dalam perjalanan The Voice ini. Blake Shelton membawa artisnya ke acara The Tonight Show. Lagi, Blake memilihkan lagu yang super tepat untuk Cole bawakan. Kali ini adalah lagu country milik Vince Gill dengan aransemen musik akustik dan string. The Voice sejenak berubah menjadi The Cole Show.
B: You went from guy who can sing good to be a guy who locked here for a while.
X: It gave us a quiet moment.
#TeamXtina Matthew Schuler – It's Time
Matthew berulang tahun dalam kompetisinya. Kembali ke elemennya dengan lagu ini seperti hadiah dari Christina untuknya. Di sesi latihan, Christina mendapat visi untuk menambahkan koreografi militer untuk penampilan Matt. Matt pun berkesempatan untuk berlatih dengan koreografer Christina, Jeri. Matt belum pernah kewalahan dengan lagunya selama ini. Dengan gaya dan gerak yang ia lakukan, diketahuilah bahwa kelemahan Matt ada disana.
X: You just wanted to speak your truth.
C: You doin' a damn good job, Matthew.
Penampilan membuang-buang waktu selanjutnya menampilkan Jacquie, Matthew, Caroline dan James dengan lagu 'Lego House'. Jika saja ini ditampilkan di result show, I'd love it.
#TeamAdam Will Champlin – At Last
Adam terlalu provokatif dengan Will. Sekarang, ia membuat pria tersebut membawakan lagu milik mendiang Etta James. Ia tak pernah menyarankan teknis pada Will, tapi emosi. Awalnya, saya berfikir ini akan menjadi ajang kacau balau. Tapi yang terjadi adalah sebaliknya. Mukjizat.
A: I love that ambition.
X: Tremendous job, Will.
#TeamBlake Ray Boudreaux – Give Me Some Lovin'
Jay Leno sempat berbincang dengan Ray mengenai kebiasaan kampung yang berbanding dengan kebiasaan Hollywood. Melodi dalam lagu ini begitu rapat dan tampak membuat Ray tak santai membawakannya.
B: Ray has got some swag. That was cool.
X: I love the whole thing.
C: Real rock'n'roll.
#TeamXtina Jacquie Lee – Who's Loving You
Setelah Matt, Jacquie pun kembali ke elemennya. Christina kurang puas dengan sesi latihan dimana Jacquie tampak masih menahan diri. Koreografer, Jeri pun kembali bertugas untuk membawa Jacquie membeberkan emosinya dalam penampilan. Dan ya, Jacquie adalah mini Christina.
X: You're a complex person.
A: That was a great performance.
B: Full energy and dynamic.
C: This is crazy.
RESULT SHOW
Guest star performance: Ellie Goulding – Burn
Guest star performance: CeeLo Green with Goodie Mob – Amy
Bottom three: Ray Boudreaux, Matthew Schuler, Caroline Pennell
Instant save: Matthew
Eliminated: Ray, Caroline
Related posts