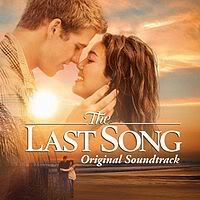 The Last Song adalah film yang diangkat dari novel yang penulisnya sama dengan beberapa novelnya yang bernasib sama, diangkat ke layar lebar seperti Message In A Bottle, The Notebook, dan A Walk To Remember; Nicholas Parks. Untuk mengiringi filmnya, lagu-lagu tema sebanyak 16 buah pun dikumpulkan dalam satu paket album soundtrack. Ada beberapa lagu lawas yang dianggap cukup matching ke filmnya gabung bersama lagu-lagu yang memang sengaja dicipta.
'Tyrant' menjadi track pembuka albumnya. Lagu OneRepublic ini sebelumnya muncul di album pertama mereke, Dreaming Out Loud, berirama rock dengan lirik yang enggak biasa. Dari judulnya aja udah enggak biasa banget, tirani. Kalau dilanjutkan dnegan lagu miliknya VHS or Beta yang berjudul 'Bring On The Comets', kita jadi kayak terbawa suasana rock-nya. Lagunya sendiri juga bukan lagu baru kog. Karena mereka sudah mengeluarkan lagu ini dari album yang berjdul sama di tahun 2007 lalu. Vokal Craig Pfunder sang vokalis, British banget deck kedengarannya. Gema alternative rock itu terus berlanjut di lagu 'Setting Sun' dari Eskimo Joe. Lagu dari album tahun 2006 mereka ini juga memiliki piano rock, seperti 2 lagu sebelumnya.
Menu utama album ini adalah 'When I Look At You' dari Miley Cyrus. Kali kedua John Shanks menyediakan lagu pop yang mengarah ke country buat Miley. Kita bisa menikmati kemampuan vokal maksimal si pemeran utama wanitanya lewat lagu-lagu seperti ini. Berikut juga 'I Hope You Find It'. Tipikal lagu tempo slow yang gampang dinikmati. Berhubung album soundtrack ini dikelola oleh Hollywood Records, maka kehadiran band pop Disney Allstar Weekend jangan dipertanyakan lagi. Mereka menghadirkan lagu baru 'A Different Side Of Me' untuk album ini. Ada juga band Alpha Rev yang menyediakan lagu baru 'New Morning' di album ini, hingga akhirnya alternative rock lebih menguasai album.
Senang rasanya mendengarkan 'Broke Down Hearted Wonderland' dari Edwin McCain. Meskipun masih juga mengusung aliran alternative rock yang sedari awal lagu sudah diperdengarkan melalui gitar elektriknya, tapi kemunculan suara terompet di tengah lagu yang membuatnya terdengar lebih fresh. Juga untuk lagu lawas 'She Will Be Loved' dari Maroon 5. Tidak ada kata lain selain menikmati, sangat menikmati. Ada lagi lagu dengan ritmik yang santai, yaitu akustik 'Down The Line' dari Jose Gonzalez. Dan The Paper Raincoat untuk lagu 'Brooklyn Blurs'. Gitar akustiknya bikin nagih, pengen didengar terus.
Melengkapi semuanya, ada Ra Ra Riot dan Iron & White. Pop dan folk yang disajikan masing-masing menjadikan album ini lebih berwarna. Penutupan ada scoring dari Aaron Zigman. Kalau sudah dengar albumnya, saatnya menunggu filmnya tayang dibioskop. Kalau tau lagu-lagu tema yang mengiringi adegan di filmnya kan jadi seru bisa sing along, meskipun lipsync. Jadi ga sabar supaya film nya puter di bioskop di kotaku!
(Ai Hasibuan / CreativeDisc Contributors)
Track List:
1. "Tyrant" Andrew Brown, Zachary Filkins, Ryan Tedder OneRepublic 5:04
2. "Bring on the Comets" Mark Guidry, Mark Palgy, Craig Pfunder VHS Or Beta 4:02
3. "Setting Sun" Finlay Beaton, Stuart Macleod, Joel Quartermain Eskimo Joe 3:49
4. "When I Look at You" John Shanks, Hillary Lindsey Miley Cyrus 4:09
5. "Brooklyn Blurs" Alex Wong, Devon Copley The Paper Raincoat 4:15
6. "Can You Tell" Milo Bonacci, Alexandra Lawn, Wesley Miles, John Pike, Mathieu Santos, Rebecca Zeller Ra Ra Riot 2:41
7. "Down the Line" José González José González 3:10
8. "Each Coming Night" Sam Beam Iron & Wine 3:25
9. "I Hope You Find It" Jeffrey Steele, Steven Robson Miley Cyrus 3:55
10. "She Will Be Loved" Adam Levine, James Valentine Maroon 5 4:16
11. "New Morning" Casey McPherson Alpha Rev 3:44
12. "Broke Down Hearted Wonderland" Edwin McCain, Maia Sharp, Pete Riley, Kevin Kinney Edwin McCain 3:02
13. "A Different Side of Me" Nathan Darmody, Zachary Porter, Thomas Norris Allstar Weekend 3:08
14. "No Matter What" Sydnee Duran, Dave Bassett Valora 3:22
15. "Heart of Stone" Sune Rose Wagner The Raveonettes 3:55
16. "Steve's Theme" Aaron Zigman Aaron Zigman 3:18
Related posts