Time Tunnel: Debbie Gibson
welly, 11 years ago
6
5 min

read
1718
Waktu Britney Spears muncul tahun 1999 dengan single "…Baby One More Time", dunia pop heboh dengan menjulukinya Princess of Pop atau Princess of Teen Pop/Bubblegum Pop. Memang munculnya penyanyi remaja berparas rupawan, berambut pirang, dengan tampilan schoolgirl bergaya sexy, menjadi penyegaran saat itu disaat gempuran musik-musik hip hop dan rock band. Padahal, kalo melihat ke belakang, istilah bubblegum pop sudah ada sejak tahun 50an, yaitu salah satu genre musik yang berupa pop yang ringan dan manis, dan ditujukan untuk pangsa pasar remaja. Begitupun istilah Princess of Pop, sudah pernah disandang oleh Connie Francis di awal tahun 60an, Madonna di pertengahan tahun 80an, dan juga Debbie Gibson di akhir tahun 80an.
Deborah Ann Gibson atau Debbie Gibson mengejutkan dunia musik pop pada saat usianya 16 tahun. Pada tahun 1987, dia menjadi orang yang termuda yang pernah menulis, memproduksi, sekaligus membawakan single yang bisa mencapai nomor 1 di Billboard Hot 100 Pop Chart, yaitu single 'Foolish Beat'. Sampai saat ini, Debbie telah menjual lebih dari 16 juta kopi albumnya di seluruh dunia. Pada puncak kepopulerannya di tahun 1987 sampai 1992, Debbie Gibson kerap muncul di cover dan artikel majalah remaja di USA. Saat itu dia sering diposisikan sebagai saingan berat Tiffany, sesama penyanyi pop remaja.
Debbie lahir di Brooklyn, New York. Pada umur lima tahun, dia sudah bisa menciptkan lagu sendiri. Pada usia delapan tahun sudah aktif sebagai anggota Paduan Suara di Metropolitan Opera House dan juga belajar piano kepada Morton Estrin, yang juga merupakan guru piano nya Billy Joel, salah satu idola Debbie di masa muda. Tahun 1987, debut album "Out Of The Blue" melahirkan single yang masuk Top 5 di Billboard Hot 100: 'Only In My Dreams', 'Shake Your Love', 'Out of The Blue', 'Foolish Beat', dan 'Staying Together'. Bahkan 'Foolish Beat' sampai ke posisi nomer satu.
Tahun 1989, album keduanya yang tak kalah sukses, "Electric Youth", menampilkan single nomor satu 'Lost In Your Eyes' yang berada di puncak Billboard Hot 100 dan album nya pun sempat berada di puncak Billboard Top 200 Album selama tiga minggu berturut-turut. Berbagai award pun diraih seperti ASCAP Songwriter Award, New York Music Award Artist of The Year, dan berbagai nominasi di People's Choice Award dan American Music Award. Pada masa ini pula, Debbie meng-endorse parfum bernama Electric Youth yang didisribusikan oleh Revlon Cosmetics, dan lini make up untuk gadis-gadis remaja, yaitu Natural Wonder Cosmetics.
Era tahun 1990-1995, Debbie merilis album "Anything is Possible", "Body Mind Soul", kompilasi "Greatest Hits", dan "Think With Your Heart". Juga single duetnya dengan penyanyi muda Chris Cuevas, dalam lagu 'Someday'. Di Jepang, Debbie juga merilis single 'Without You', yang merupakan remake dari lagu penyanyi/komposer Jepang Tatsuro Yamashita, yang sempat ngetop di Indonesia dengan aliran jazzy tunes, terutama lagu 'Mermaid' dan 'Your Eyes'. Sebagai produser dan komposer, Debbie juga mendukung penyanyi pop Ana Rodriquez di USA dan Jo Beth Taylor di Australia dengan karya-karyanya. Dengan perubahan trend music dari dance pop dan sweet pop ke hip hop dan alternative rock, Debbie pun kewalahan mempertahankan popularitasnya, meski tetap konsistem mengeluarkan album, singles, dan melakukan tour promo, termasuk ke Indonesia, pada masa itu.
Setelah kontraknya selesai dengan major label EMI, Debbie mendirikan labelnya sendiri, Espiritu, dan merubah nama panggungnya menjadi Deborah Gibson, agar terkesan lebih dewasa. Album "Deborah" dirilis dengan single 'Dance Only Words' yang masuk Top 40 Billboard Hot Dance Tracks. Tahun 2001, Debbie merilis album "M.Y.O.B" yang masih konsisten dengan musik dance pop, dengan single 'What You Want' dan 'Your Secret'. Sempat pula dia malakukan duet dengan Peabo Bryson di lagu 'Light The World' (dari album "Unconditional Love"-nya Peabo Bryson), juga duet dengan Jordan Knight dari NKOTB dalam lagu 'Say Goodbye', dari album "Jordan" di tahun 2006.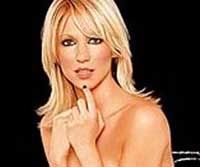 Selama lebih dari 20 tahun, Debbie Gibson yang sampai saat ini belum menikah, telah membuktikan kalau dia memang entertainer sejati dan berbakat. Sebagai penyanyi, penulis lagu, musisi, aktor dan penari, dia telah memenuhi berbagai kriteria sebagai all-around entertainer. Debbie tetap aktif di berbagai acara, seperti sebagai juri American Junior (versi anak-anak dari American Idol), peserta Skating With Celebrities, bermain di Pentas Broadway seperti Funny Girl, Les Miserables, Beauty And The Beast, The King and I, dan Chicago. Seperti juga saingannya di dunia musik pop, Tiffany, Debbie juga tampil bugil di majlah Playboy. Single-single terus dirilis meski terbatas untuk di pesan atau di dowload dalam
Official Websitenya. Dia juga sempat muncul dalam konser bersama di Quebec Canada pata tanggal 10 April 2009, bersama Tiffany, Samantha Fox, dan Rick Astley. Disana, selain membawakan hits-hits nya di tahun 87-89, Debbie juga memanikan piano saat Tiffany menyanyikan hits nya, 'Could've been'. Ini penampilan pertama Debbie bersama Tiffany dalam satu panggung.
Dalam dunia film, Debbie juga bermain bersama Lorenzo Lamas dalam film action/adventure ber-budger rendah, Mega Shark vs. Giant Octopus, produksi The Asylum. Tiffany dan Debbie akan bermain bersama dalam film Mega Phyton vs. Gatororoid, yang akan di rilis tahun 2011. Album baru juga akan diluncurkan dalam waktu dekat.
Discography:
* Out of the Blue (1987)
* Electric Youth (1989)
* Anything Is Possible (1990)
* Body Mind Soul (1992)
* Think With Your Heart (1995)
* Deborah (1997)
* M.Y.O.B. (2001)
* Colored Lights: The Broadway Album (2003)
Film:
* Ghostbusters (1984) (uncredited)[40]
* My Girlfriend's Boyfriend (1999)
* Wedding Band (2001)
* Soulkeeper (2001)
* Celeste in the City (2004)
* Coffee Date (2006)
* Body/Antibody (2007)
* Mega Shark vs. Giant Octopus (2009)
Television:
* Beverly Hills, 90210 (1991)
* Street Justice (1991)
* That '80s Show (2002)
* Skating with Celebrities (2006)
* Celebrity Ghost Stories (2010)
Awards:
-Guinness Book of World Records – youngest person ever to write, produce, and perform a number one single ("Foolish Beat") – 2009
-Nominated Favorite Female Music Performer – People's Choice Awards – 1990
-Rock Producer of the Year – American Songwriter Awards – 1990
-Nominated Best Pop Female Vocalist – American Music Awards – 1990
-Artist of the Year – New York Music Awards – 1990
-Song of the Year – "Lost In Your Eyes" – New York Music Awards – 1990
-Best Pop Female Vocalist – New York Music Awards – 1990
-ASCAP Songwriter of the Year (tied with Bruce Springsteen) – 1989
-Debut Album of the Year – "Out of the Blue" – New York Music Awards – 1989
-Debut Artist of the Year – New York Music Awards – 1989
Review by Erwin Sagata
Single Debbie Gibson mana yang paling kamu suka?
Related posts