Music Newz Bites – 06 Oct
welly, 11 years ago
14
3 min

read
572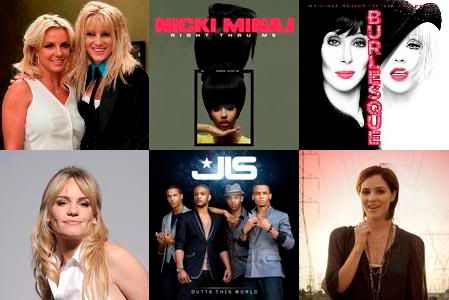 Duffy akan mengeluarkan single terbaru yang berjudul 'Well, Well, Well' yang menampilkan rhythm section dari The Roots. Single ini akan dirilis pada tanggal 21 Nopember mendatang. Penyanyi 26 tahun peraih Grammy Awards ini juga telah mengkonfirmasi judul album keduanya adalah "Endlessly" yang akan dirilis tanggal 29 Nopember-nya. Selain 'Well, Well, Well' lagu lain yang akan hadir di album ini adalah "My Boy", "Endlessly", "Don't Forsake Me", "Lovestruck", and "Breath Away".
Masih dari bulan yang sama, album soundtrack "Burlesque" akan dirilis pada tanggal 16 Nopember. Lagu ini pastinya akan berisi lagu baru masing-masing dari Christina Aguilera dan Cher. Dan beberapa track yang sudah dipastikan akan menghiasi album ini adalah:
* "Welcome to Burlesque" (Working Title) – Cher
* "You Haven't Seen the Last of Me" – Cher
* "Something's Got a Hold on Me" – Christina Aguilera
* "Spotlight" – Christina Aguilera
* "Express" – Christina Aguilera
Oh ya, lagu 'You Haven't Seen The Last Of Me' adalah power ballad ciptaan Dianne Warren.
Udah nonton episode "Britney/Brittany"-nya Glee belom? Wah, itu episode emang super duper keren. Mencatat 13,51 juta penonton di Amerika, mengalahkan jumlah yang diraih episode "The Power Of Madonna" di musim pertama. Sampe-sampe, Britney Spears sendiri ngirim karangan bunga ke Heather Morris, pemeran Brittany S Pearce di serial tersebut. Britney juga memuji akting Naya River dan Kevin McHale dalam tweet-nya selama episode berlangsung pekan lalu. Kalau berita dari Britney-nya, untuk album terbarunya nanti dia akan bekerjasama dengan William Orbit, orang yang membawa sukses "Ray Of Light" bersama Madonna.
Apa yang Nicki Minaj lakukan menanggapi isu bahwa dirinya seorang biseksual? Nicki tidak melalukan apa-apa, selain membicarakan mengenai video klip terbarunya 'Right Through Me'. Nicki lebih senang fokus atas karyanya ketimbang hal-hal pribadinya. "The concept of the video is boy-and-girl relationship drama, you know, all of the intimate stuff as well as the fighting as well as the self-reflecting type stuff." ungkapnya pada Entertainment Weekly.
Baru saja diputar perdana video terbaru Katharine McPhee untuk lagu 'Say Goodbye'. Lagu ini dirilis sebagai promotional single untuk album kedua Kat, "Unbroken" pada 15 September tahun lalu. Video ini disutradarai oleh Judson Pearce Morgan, orang yang sama yang telah menyutradarai video Kat sebelumnya, 'Terrified'. Video ini menampilkan Jesse Spencer, bintang serial "House" yang tayang di Fox. Syuting untuk videonya dilakukan di Pasadena dan Los Angeles. Video ini juga menampilkan footage dari Christian-themed indie movie "I Am – The Movie" yang akan dirilis videonya 2 Nopember nanti. Silahkan tonton videonya disini
22 Nopember dipilih sebagai tanggal perilisan album kedua JLS "Outta This World". Epic Records sebagai label rekaman boyband alumni X Factor ini sangat excited akan perilisan album tersebut, berhubung prestasi yang mereka buat dengan album pertama yang terjual lebih dari 1,2juta keping di Inggris. Album ini sudah punya single juara, 'The Club Is Alive' yang debut di posisi 1 UK Singles Chart. Meskipun tracklistnya belum dibeberkan, album ini akan memuat lagu-lagu antara lain: 'Love You More' dan 'Ay Mama" (menampilkan vokalis tamu Shontelle). Juga album ini akan diproduseri oleh Steve Mac, Stargate, Labrinth, dan lain-lain.
(Ai Hasibuan / CreativeDisc Contributors)
Related posts