1D This Is Us: The True Experience of 1D on The Road
welly, 8 years ago
0
2 min

read
1647
Boleh dibilang, sekarang ini, One Direction adalah "The Biggest Boyband In The World", terbukti dari catatan rekor yang mereka miliki, mulai dari penjualan album, single, video yang ditonton dengan jumlah terbanyak, sampai award-award yang mereka terima. Well, This biggest boyband finally revealed how their life on tour! In 3D!
Film One Direction: This Is Us ini berisi banyak sekali hal yang, mungkin, untuk beberapa orang jarang diketahui. Cuplikan tour di London, Jepang, Eropa sampai Madison Square Garden di Amerika ditampilkan dengan apik di film ini. Selain itu, bagian-bagian yang menceritakan tentang kehidupan pribadi dari masing-masing member dari boyband ini juga banyak sekali dituangkan dalam film ini. Banyak moment mengharukan, lucu, sampe memalukan ada di dalam film ini.
PERHATIAN! MULAI PARAGRAF BERIKUTNYA AKAN BERISI SPOILER!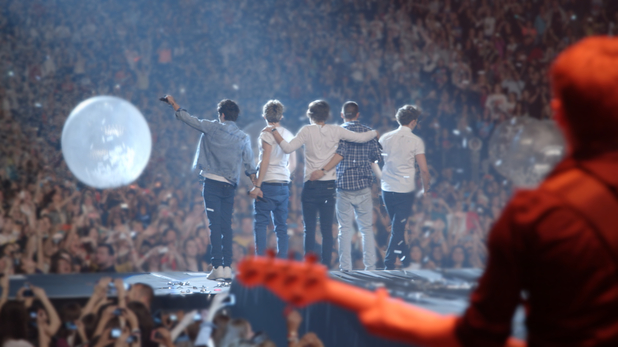 Film dibuka dengan penampilan One Direction di O2 Arena dengan membawakan lagu "Up All Night", diselingi dengan cerita masa kecil masing-masing member dan beberapa potongan foto-foto masa kecil mereka yang ditampilkan secara bergantian. Tak ketinggalan juga cerita dari masing-masing personel saat mereka mulai audisi untuk The X Factor. Dalam cerita ini, Simon Cowell juga ditampilkan untuk bercerita tentang bagaimana 1D terbentuk hingga besar sampai sekarang.
Tidak sampai disitu saja, ternyata banyak sekali kelakuan konyol dan kekanak-kanakan dari masing-masing personel 1D yang dilakukan saat mereka sedang melakukan tour. Tidak hanya bisa mendengar dari cerita langsung crew yang terlibat dalam tour itu, tapi kita juga bisa langsung melihat, kekonyolan seperti apa yang sering Zayn, Niall, Harry, Liam, sampai Louis lakukan selama tour.
Selain itu, penonton juga akan diajak untuk mengenal lebih dekat orang tua dari masing-masing personel dari 1D, dan bagaimana hubungan mereka sebelum dan setelah mereka terkenal seperti sekarang ini. Kita juga akan diperlihatkan bagaimana mengharukannya moment dimana Zayn memberikan kado yang luar biasa untuk keluarganya, terutama ibunya yaitu sebuah rumah.
Pada intinya, Morgan Spurlock sebagai sutradara berhasil menampilkan sisi lain dari 1D yang belum pernah diperlihatkan secara publik dan mengemasnya secara bagus dan menghibur. Di film ini juga tidak dibahas hubungan pribadi The Boys (Julukan One Direction), dengan para pasangan mereka. Efek 3D yang ditampilkan ketika konser juga sangat bagus, terasa seperti mereka bernyanyi langsung di hadapan kita. Well, those "Experience Their Live on The Road" tagline is pictured the film very well! And whether you're Directioners or not, this film is still worth to watch!
ps: Jangan pulang dulu ketika menonton ending credit film ini, karena ada keisengan The Boys dengan make up kakek-nenek yang sedang ngerjain orang2.
Lagu-lagu yang dibawakan di "This Is Us":
Up all night
One thing
She's not afraid
Live while were young
Teenage Dirtbag (Wheatus)
Little things
Cmon'
Change my mind
One way or anohter
Over again
Kiss You
What Make You Beautiful
(Dundhee)
Related posts