Untuk kali kedua, setelah terakhir di tahun 1998, saat album "Ray of Light" gagal duduk di posisi #1 saat dirilis, Madonna kembali harus menelan pil pahit. Album ke-13-nya, "Rebel Heart", hanya sanggup di posisi #2, karena dihadang oleh album soundtrack serial yang tengah naik daun, "Empire".
Album soundtrack serial yang dibintangi oleh Terrence Howard dan Taraji P. Henson tersebut sukses menduduki singgasana Billboard 200 Album dengan penjualan sebanyak 130.000 kopi. Ini sebenarnya cukup mengejutkan karena awalnya soundtrack "Empire" diproyeksikan hanya sanggup meraup sekitar 25.000 kopi saja.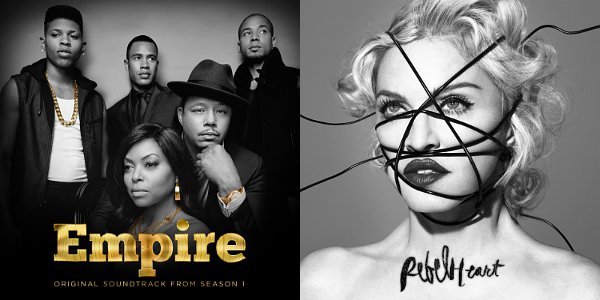 "Rebel Heart" sendiri terjual sebanyak 116.000 kopi. Jumlah yang tidak begitu besar. Tapi mengingat skandal bocornya lagu-lagu album ini di akhir tahun, serta bocornya (kembali) album secara penuh di awal Februari yang lalu, maka bisa dimaklumi.
Agak ironis sebenarnya, mengingat laju "Ray of Light" dihambat oleh album soundtrack juga. Album soundtrack "Titanic" lebih tepatnya, yang sanggup menjuarai Billboard Hot 200 Album sepanjang 16 minggu!
Tapi mungkin Madonna tidak terlalu mengambil hati hal ini, karena ia merupakan penggemar serial yang baru saja memasuki season finalenya tersebut. Bahkan kabarnya Madonna menjadikan Terence Howard sebagai model untuk video musik single 'Ghosttown'.
Soundtrack "Empire" diisi lagu-lagu yang dinyanyikan oleh para pemainnya, seperti pendatang baru yang tengah bersinar, Jussie Smollett, dan juga beberapa penyanyi kenamaan; Jennifer Hudson, Mary J. Blige, Estelle, Rita Ora, Juicy J dan Courtney Love, yang mana mereka semua juga turut berperan dalam "Empire" sebagai bintang tamu. Timbaland bertugas sebagai penata musik.
Haris
CreativeDisc Contributor
@oldeuboi
Related posts